T

he 26-year-old magician is known for his card magic. He's appeared on Penn & Teller: Fool Us, which led to international fame, and has toured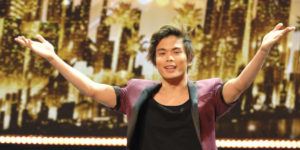 internationally as a magician. Lim's first appearance on Fool us has earned over 50 million views, and led to an offer for him to appear on the show again. He is the only magician in the history of the series to fool Penn and Teller twice.
Lim is the reigning world FISM champion for close-up magic. He studied music at Lee University prior to his appearance on AGT.
Lim was a double major in piano and telecommunications at school, according to The Cleveland Banner. During his time at University, he also continued practicing magic.
Then, in 2011, at 20-years-old, Lim was diagnosed with carpal tunnel and was forced to choose between music or magic. The Cleveland Banner reports, "He opted to stick to his passion for magic, taking a sabbatical from Lee, and eventually dropping out to return to his parents' home." Read more here…  https://heavy.com/entertainment/2018/09/shin-lim-agt-2018/