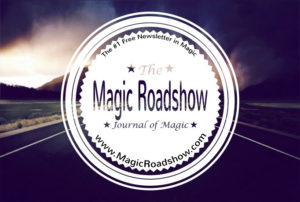 The MAGIC ROADSHOW is the largest FREE blog and newsletter in all of magic. We publish news stories, articles, and great effects from magicians around the world. About once a month we publish a new Magic Roadshow Journal of Magic.. and publish it right here. You can read it online… or download it as a PDF and
read it at your convenience.
Magic, Street Magic, Mentalism, Mental Magic, Close Up Magic and Mathmagic.. you'll find it all in the Roadshow! Please sign up for the Roadshow HERE.. and be notified about once a month when a new issue posts.  Absolutely NO spam!
Rick C.  /  Publisher
"There's too much stuff (in the Roadshow).  I do have another life you know -BUT- this had the most useful stuff, magic wise, of any newsletter I have ever come across on the web.   Congratulations on a great job."
Paul Daniels   ( The late Mr. Daniels was a long time fan of the Roadshow.. RIP my friend.. )
---
"The Magic Roadshow is the BEST publication out there, Rick! PLEASE keep up the great work!"
Paul Lelekis – Author, Innovator, Magician Extraordinaire.. Find at Lybrary.com
---
"I treasure each and every issue of the Road Show. Don't change a thing and keep 'em coming!"
Professor George Bellefeuille
---
I really love what you do and consume it voraciously..  I started getting the Roadshow about a year and a half ago and turned a bunch of other magi friends on to it. I even read ( listen to ) each issue of the Roadshow and Magic News… I am blind so I use a TTS screen reader…
Brent A. Gifford
The Great Blindini – Magician / Clinical Hypnotherapist
"Now you see it.. Now I don't……"
---
"As the writer of a magic newsletter myself, I am astounded at both the quantity and quality of the material that Rick manages to release on a regular basis. I salute you."
Jim Canaday,  The Magic Portal
---