COLORFOOL – Victor Zatko – A Review
COLORFOOL by Victor Zatko – A Review
This is the Ad Copy:
"Very visual, very sharp, a gimmick that fits a lot of routines, adapt it according to your imagination."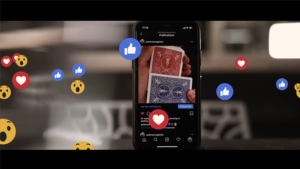 – Bernard Bilis
"Colorfool is very smart, clean and more importantly VISUAL. Don't hesitate, this is very good."
– Mickael Chatelain
"Wow only 3 letters to describe it WTF"
– Etienne Pradier
COLORFOOL is a precision hand-crafted gimmick for insanely visual magic. With this method you will be able to make a card change, appear, disappear, as many times as you want without any kind of reset. The gimmick has been designed to be used in real close up conditions but also works perfectly for social medias.
In a nutshell:
Visual
Ready to go out of the box
No flap
Instant reset
Full routine taught
Get ready to be COLORFOOLED.
My Thoughts:
This is an intelligent little gimmick. I like the basic idea, as it offers the performer the opportunity to perform any one of a number of different effects.
The basic handling is this… You remove the top card of the deck, turn it sideways and place it back on the deck, and wave it like a paintbrush.. which changes the card underneath from a blue back card to a red back card. This is how the gimmick is designed to work. Naturally, like any good color change, you should add a routine to the handling to create the magic.
I don't think Victor Zatko, the creator, would object to me telling you the magic is achieved with magnets. It's much more than a couple of magnets placed to pick up the second card. Actually.. you can see the top half of the second card is still blue as the bottom half begins to change to red. You are furnished with four Bicycle cards; three gaffed blue backers and one regular red back card. The additional cards allow the performer to 'control' the magnetism. The proprietary feature with COLORFOOL is the precise placements and the handling.
The gaffs are all quality made and will last as long as a Bicycle card normally last. If one of the gaffs should wear out.. the magnets, which are precisely placed, could be removed and attached to another card. I will say that one card contains an internal magnet that would be difficult to replace, but it is also a card not likely to be abused and is only subject to normal wear and tear.
The instructions, approx.17 minutes, are available in either English or French.. and also includes an interesting effect in which a card is chosen and put back in the deck.. and after the deck is 'painted' the deck is spread to show every card has changed to red backers -except- the selected card, which still has a blue back. Victor also teaches several tips to help you create your own handling.
The video and audio are quite adequate. This isn't a slick production, but it doesn't need to be. COLORFOOL is recommended for any skill level. It was my belief those who will benefit most are those with at least a basic understanding of card magic, particularly considering these custom gimmicks are designed for the performer to add to his current routines and/or create unique content.
The basic handling is a bit 'nichey'.. until you get the feel for the color change. It shouldn't be a problem for the vast majority of you guys. Victor suggest that each COLORFOOL is handcrafted, and as such, is unique. Some handlers need to add an additional ungimmicked card between the gaffs to minimize the 'pull'. Just practice the move a bit.. and you'll quickly determine what you need to do to make your gimmick most efficient.
Additional notes: In addition to walk-around situations, this is a very good effect for social media. Although I haven't done so, I think the visuals would be very impressive on camera. Although not totally a head-on effect, you would want to utilize deck management during your performance, primarily by keeping the deck about waist level. When brushing the blue card over the deck immediately before the color change, you can hold the card approx. an inch off the top of the deck, giving the impression the top card is not touching the second card of the deck.
I suggest going to Murphy's site and watching the demo video to get a true idea of what COLORFOOL looks like in performance. If you decide this is for you.. I honestly think you'll have a tool in your toolkit unlike anything else you own.
$29.95 .. Available from Murphy's Magic and their associates.
https://www.murphysmagic.com/product.aspx?id=68455
Review by Rick Carruth