KINGS & LEGACY: Gold Edition Marked Playing Cards – A Review
King and Legacy: Gold Edition Marked Playing Cards – A Review
Ad Copy Description:
"Many years ago, it was said that when kings died, they didn't abandon their villages, their walls or their empires. There was something left in them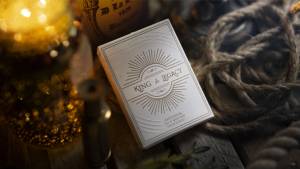 that continued to fight for their people. In this way, their people could continue living in harmony, peace and equality.
King and Legacy: Gold Edition Playing Cards, printed by US Playing Cards, has 52 inhabitants of the city of dreams, of ambitions and future promises.
Nowadays, everything we do leaves a footprint in the world.
And the only thing that stays in our memory is what we do with our heart. Sometimes the moments that DON'T happen are the most important.
Life is a collection of nonexistent memories waiting to be created.
It is for that reason that I do not want you to feel my presence – instead, I want you to feel my absence when I am no longer here. Remember the gold metallic ink on the tuck and cards as they flicker in the sun. Embrace the sensual feel of the embossed tuck.
And hopefully every time you open the doors of this box and rediscover what is inside, you'll forget your problems and transport yourself to your best thoughts and highest highs.
And that you remember me. And you feel me close to you."
That is my dream.
The legacy of a King. My legacy.
King and Legacy: Gold Edition Playing Cards – the cards are marked to give you unlimited possibilities
COMPLETELY customized (pips, court cards… the ENTIRE deck)
Printed by The US Playing Card Company
Designed by Destino
Presented by Julio Montoro
My Take:
As I mentioned in a recent review of another deck… reviewing a deck isn't easy. I can tell you what I like, or dislike, about it, but ultimately it's a matter of personal preference. It's like my Hawaiian shirt… I love it.. and my wife hates it.. although we generally share the same general taste.
Kings live.. and Kings die. When they pass, they leave a Legacy. Hopefully, they will leave a good legacy, one to be remembered fondly. Designed by Destino (Destino Magico) and presented by Julio Montoro, (Sketch, Rejoined, and Pocket.. in partnership with Joao Miranda), King and Legacy strives to present the user with a gracious deck of well-designed cards, totally original cards, with the bonus of being a marked deck, capable of a wide variety of effects not attainable by a normal deck.
There is a very minimalistic design to King and Legacy, highlighted by gold accents and intricately designed Aces. I think the point is quality over quantity. The case is embossed as well.. adding a great feel to the deck, yet the backgrounds are matte white to not distract from the gold trim. The cards themselves are sharply cut from thin USPCC stock, making handling and faros very easy. (See side note)
I REALLY regret saying this.. but the deck, as attractive as it is, has one weakness; the markings. I don't have young eyesight, but I do wear glasses. Regardless.. I cannot read the markings unless I'm in very bright light… and the card is held about a foot away. To say the marks are small (to me) is slightly an understatement. They are clearly marked and not 'coded' to reveal the identity, yet, you do need decent vision to read them. After being unable to read the markings in normal room lighting, I took the deck to a meeting with seven other magicians. In a well-lit restaurant, five of the seven could not read the markings with the card laying on the table in from of them. I really dislike saying anything negative about a deck designed as appealing as King and Legacy, but I do have an obligation to say this.. up front.
Buy KING & LEGACY because of their handling and their unique appearance. They are very affordable, and you may find everything works exactly as the creator's intended. I've included a link to a 30 second video to give you a true view of the deck and their original face and numerical design.
$13.95 .. From dealers who carry the Murphy's Magic line of products..
https://www.murphysmagic.com/Product.aspx?id=62304
Promo Video – https://www.youtube.com/watch?v=_7Nk-1C2wGc
Side note.. When I open a new deck, my FIRST move is to perform my personalized faro. If the deck is cut properly, with fresh blades, I'll hit a perfect-to-near-perfect faro, without any real effort, the first time. If I have to break the cards in before I can faro.. I'm not happy.
( https://www.youtube.com/watch?v=26VeymCTu7A )