At The Table Live Lecture – Erik Tait – A Review
At The Table Live Lecture – Erik Tait – A Review
Donavon Powell
I would like to get this out of the way early. I am not surprised that I enjoyed this. While Erik Tait did not fool Penn and Teller he did win the I.B.M.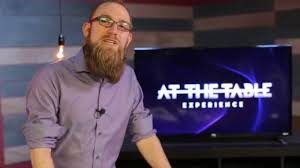 Gold Cups Close Up Competition. He is obviously a talented Magician. But he is much more. While it is true he is quite the thinker I think, possibly more importantly, Erik knows how to apply what he thinks to constructing Routines that are Practical for Real World use.
Nothing that he teaches on this At-The-Table Lecture is unusable in a Working setting. Erik shows a wonderful ability to construct modular Routines that can be incorporated into different places within an Act. He explains which items he considers appropriate for openers and why.
That leads me into the next portion of this review. What is in the Lecture? That is a tough one. Erik teaches seven full Routines. If you have ever wanted to do a Svengali Deck Routine with a Non-Gimmicked Deck this is the place to learn it. I have been doing a version of this for years. I walked away with some visual elements that have elevated my Routine to another level. A Bar Trick with a Bit of Cork and a Borrowed Dollar is now in my regular carry and is another Routine that I frequently did prior to this Lecture that I am adjusting because his version is better.
This Lecture is about SO much more than the Routines within. Erik teaches his work on the One Handed Top Palm, the Dribble Pass, the Click Pass, and Culling. Additionally, he shows uses for some traditional card gaffes that most of us have lying around. The Coin Coaster could have been released as a solo release and people would have bought it. If you are ready to try something bold and knuckle busting take a stab at the Spanish Train Change.
The level of difficulty in this At-The-Table Lecture is definitely not for the Novice. While Erik does teach the techniques necessary to accomplish the Routines, the Novice would have to get VERY comfortable with them before they could even attempt to work with the material. That said, I would still recommend this Lecture to a Novice for the Theory contained within. The section on the Fool Us and I.B.M. Routines is a great window into the process a Professional goes through when developing something. Limiting yourself to Create is a mindset that is not often considered, but it generates some phenomenal results. Erik explains very well how he uses this concept in his approach to creating Magic.
Much like every At-The-Table Lecture the video quality is top-notch. Multiple demonstrations of Technique are used to capture the important elements. The audio is phenomenal. Perhaps it is a little too good. There are points where you can hear EVERYTHING. Certain things, like Clicks or Riffles, are very much louder than you would expect them to be. This is just nit-picking on my part to be honest as I really did not mind it. The quality of what has been provided in this Lecture more than compensates for that very minor annoyance.
At The Table Live Lecture Erik Tait April is $7.95- From Murphy's Magic and dealers who carry their product line.
https://www.murphysmagic.com/product.aspx?id=64396
Donavon Powell – The Magic Roadshow