Social Print by Juan Alvarez and Twister Magic – A Review
Social Print by Juan Alvarez and Twister Magic – A Review
Social Print by Juan Alvarez and Twister Magic – A Review
This is the Ad Copy:
Twister Magic and George Iglesias are proud to present the new Social Print routine by Juan Alvarez designed for virtual and live shows!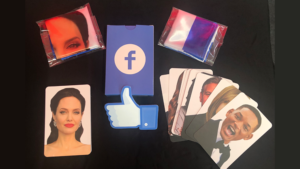 It's more than a trick. This is a full routine created for the amateur or professional magician. During the past 10 years, Juan Alvarez from Colombia, has been presenting Social Print with great success in-person, on television and recently through Zoom virtual shows. This routine easily adapts to any situation and is themed around social media. Packed with entertaining moments, it's a proven worker that's very easy to do.
Inspired by the trick "Silk," by Lewis Davenport, Juan has reshaped everything, created a full script and audience tested the routine hundreds of times. You will receive everything you need to perform: A card box, 26 specially printed cards, two custom-printed silks, a Facebook hand accessory, and even Juan's script. Of course, you are more than welcome to create your own routines, gags and lines!
1 special card box printed with FaceBook logos
1 special printed handkerchief – White and Blue (Made from heavy silk, great printing definition, high durability and also washable)
1 special printed handkerchief – Leonardo Di Caprio or Angeline Jolie (depending on the trick you purchase) (made from heavy silk, great printing definition, high durability and also washable)
1 Facebook hand (made of thick cardboard and plastified for high durability)
1 instructional online video card
1 Link to download: sound effects and a PDF with a written routine.
1 special set of 26 printed jumbo cards:
Containing:
– 10 different cards: Jennifer Aniston, Will Smith, Lady Gaga, George Clooney, Whoopie Goldberg, Sofia Vergara, Angelina Jolie, Elon Musk, Kim Kardashian, Donald Trump.
– 1 blank card (To add your own picture or any other picture you wish)
– 15 repeated cards to force: Leonardo Di Caprio or Angelina Jolie (Depending on the trick you purchase)
My Thoughts:
SOCIAL PRINT is released by Twister Magic and George Iglesias. I reviewed two effects by George in late 2020, Airplane Mode and A Letter To Santa, and both were two of my favorite reviews/effects of the year. So.. I had high expectations for Social Print.. knowing my prior experience with Twister Magic was a good one.
Juan Alvarez's effect, just like my two other reviews, are all very heavy on the performance aspect. The first thing you notice when you take the products out the packages are their extremely durable manufacturing. It's like they go overboard to make sure the props are useable for years and years. No exaggeration.
The other thing is the nature of the effect. SOCIAL PRINT is NOT a flash-in-the-pan type effect. You don't wow your audience with gun powder and take a bow. This is a detailed and lengthy effect that builds to a climax. It's not a complicated effect… Everything can be easily memorized by the performer as the effect tends to flow along from step to step and provides the magi with ample opportunity to talk and interact with his spectators.
The premise is this.. A heavy handkerchief is handed out for examination. It's white, with a border, and blank.. The cloth is folded with the help of the spectator, and a rubber band is placed around it. A stack of large cards are introduced, each card with a picture of a famous celebrity. (Some listed in the ad copy). After several are shown and named, a spectator picks one of the cards and the rest are put aside. The handkerchief, after reasonable by-play, is unraveled.. to show it is now printed with a large picture of the selected celebrity. The name, Social Print, comes from the magi referring to the celebs as his FB friends, the use of sound effects created to resemble online sounds, and the use of a large FB Thumbs-Up as a prop during the effect.
Physically.. a beginner can perform this effect. The sleights are very simple, really, but with all the spectator interaction, I would recommend this effect for someone who has some degree of experience.
Actually, if you go to the Murphy's link below.. there is a video demo AND a script of the bulk of the conversation between the magi and the spectators. This will give you a good idea of how the effect plays out.
The instructions are via Vimeo. The instructions are available in both English and Spanish.. but NO subtitles (Thank You Juan!) The English tutorial is one hour and 17 minutes, and teaches everything you would want to know. There is, aside from the instructions, a full, live performance in English. The first couple of minutes of the video are a live performance in Spanish. It scared me at first.. but not to worry.
Juan actually spends extra time showing how to perform Social Print on virtual performances and ZOOM meetings. This method is super easy and much appreciated by this reviewer.
The video sound and quality are very good, and you shouldn't have any problems learning Social Print. Juan is from Columbia, South America.. but his English is quite good. He has trouble pronouncing Whoopie Goldberg.. but all is OK..!
There is also a link to a PDF.. if you prefer to learn the routine that way. There is also a sound file available that lets you reproduce the social media sounds.
There are two different versions of Social Print. One reveal is Leonardo Di Caprio and the second is Angeline Jolie. They are separate versions and you can order your choice of celebrity..
SOCIAL PRINT is intended for performers. If you enjoy engrossing your audience in your performance.. this will be a very good purchase for you. Fifty bucks is probably more than you pay for a typical effect.. but once you handle the props and watch the instructions, you'll agree you made a smart choice. You'll get LOTS of miles out of Social Print.
$50.00 .. Available at Murphy's Magic and their associates.
https://www.murphysmagic.com/product.aspx?id=69202
Review by Rick Carruth