AM/FM Deck – Michael Breggar – A Review
AM/FM Deck – Michael Breggar – A Review
AM/FM Deck – Michael Breggar – A Review
Deck and Online Videos & PDF
This is the Ad Copy
The perfect forcing deck for working pros and a few cons.
The spectator calls a number and deals down to that card… it is the card you predicted! Or, they just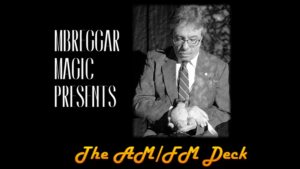 start dealing until they wish to stop. It's the predicted card. Or… well, you get the point.
Here's the thing…. they call the number, they remove the deck from the box and they start dealing. It ends on the force card. And then, you show that any other number would have brought them to different cards.
No static at all. It's Michael Breggar's "AM/FM Deck"
My Thoughts:
I don't normally preface a review with a comment about the creator. But.. I'm a fan of Michael Breggar. That doesn't mean I'm a fan of every single effect produced by Michael.. but I'm certainly a fan of most. That said.. I'm a fan of THIS one. Brother.. that little fact makes my life so much easier..
To quote Michael…
"I cannot believe I am the first to come up with a configuration like this, though I have not seen this deck construction and general handling together. In a way, its family tree could be traced to the Svengali, Mirage, Pop-Eyed Popper, etc. gaffed decks of the golden-oldies era. Nods to one-, two-, three-way forcing decks and their ilk."
AM/FM Deck is not a trick. It is a tool. It is an intriguing way of forcing a card or producing a card from a named location in a deck. If you watch the video, you get a good notion of just a couple of the productions you can achieve. This is much more than a.. "..deal down to a number and there's your card.." effect. It is a series of effects made possible by being able to know, in advance, the identity of a card at a predictable location… AND… being able to convince the spectator the deck is a conventional deck, full of different cards. It's not. But that's the secret behind AM/FM Deck.
I don't like to comment on reviews by fellow reviewers. It's not nice.. and I try my best to be a nice guy. That said.. A very popular reviewer recently reviewed Michael's deck and did his best to classify it as nothing more than a Svengali deck. It's not. It cannot be used as a Svengali deck, as the math doesn't gee-haw. Yes, there's a number of the same cards in the deck, but, as Michael says, the " deck construction and general handling " is different from a Svengali deck.. as well as some of the other popular forcing decks. You are paying for the madness behind the method.. and there's plenty of madness to go around. I promise…
AM/FM Deck was created using a variety of psychologically motivated moves. Michael furnishes buyers with two separate videos.. one 18 minutes long and one 30 minutes long.. detailing the why's and what for's. All the steps are explained and justified. Ultimately, his philosophy is..'don't let the forcing deck become the center of attention. Bring it into play.. let it do its thing.. then take it out of the spotlight.'
Aside from forcing a card, its very basic purpose, Michael teaches a zoom show method, where a prediction card is mailed days ahead of time to the host.. for the grand reveal during the zoom meeting.
Video two, titled – More, Better, Other Tricks with the AM/FM Deck – features a variety of effects that do not rely on simply forcing a card, but expand the concept. One.. the Happy Birthday effect, begins with the spectator's birthday serving as the numerical location. The spectator is then given a birthday card with the same card dealt to – found printed or attached to the inside of the birthday card. Another effect uses six dice to decide on a location within the AM/FM Deck. Yet another revelation uses a giant card concealed under your mat as the final reveal.
One of my very favorites is based on the classic Out For Lunch, probably by William Larsen Sr… but maybe Edward Bagshawe.. The notion is very visual and surprising.. and happens in the spectator's hands.. always a big plus. And finally, Michael has devised a compelling use of the AM/FM Deck to reproduce an Invisible Deck effect.. except it isn't an invisible deck effect.. much to the chagrin of the poor magician(s) who were on the edge of busting your measly carcass.
AM/FM Deck is available in Red or Blue backs.. (Bicycles) The video, although filmed in Michael's office, I assume, is a very good production, using multiple cameras and picture-in-picture technology. The sound is ideal and everything is up to Murphy's Magic standards.
There is also a PDF included with the videos, giving you an overview of most of the effects taught in the videos. All the basics are discussed, including the deck layout should everything become displaced.
Remember, when you purchase AM/FM Deck, you are purchasing a tool. You are given tutorials to seven or eight different effects, some which could easily be sold as stand-alone effects. Honestly. I am going to recommend this to my friends and readers. It is well worth the time and effort, and your magic will grow exponentially…
$29.95 ..   From Murphy's Magic and their Associates..
https://www.murphysmagic.com/Product.aspx?id=69968
Review by Rick Carruth for The Magic Roadshow