Card Magic For The Enthusiast – Paul Hallas – A Review
Card Magic For The Enthusiast – Paul Hallas – A Review
Card Magic For The Enthusiast – Paul Hallas – A Review
This is the latest from one of the most respected writers/performers in all magic. He has amazed folks on both sides of the ocean for many years. Here's the Ad Copy for his new book – Card Magic For the Enthusiast: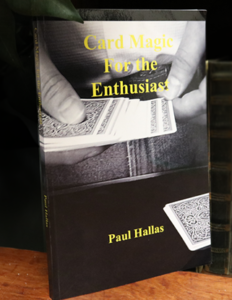 Welcome back to another compelling compilation of clever card conjuring for the card magic enthusiast. This book is not intended for beginners, as some knowledge of card magic is already expected. But there is nothing contained to bust your knuckles.
It's guaranteed that the card enthusiast will find a number of routines to whet his appetite, so why are you wasting time reading this? Get your cards out for the first effect!
Paul Hallas released his first magic book in 1979, and the creative bug has remained with him ever since. His main interests are close up magic (mainly cards) and mentalism, and his books reflect that. Having written perhaps the most well-known book on 'packet tricks', a book just on one card plot, 'Across the Void' (the Cards Across plot), and a book on the use of various types of cards in mentalism, "Mentalism With Cards".
He has authored over a dozen books and has contributed articles to various magic magazines over the years. He is a professional entertainer who now lives in Florida.
My Thoughts..
When I recently learned Paul Hallas had a new book on the market, I couldn't wait to review it. Now, it's much harder to review books than to review DVD's and ebooks, particularly if you've had cataract surgery like yours truly, but the payoff is significantly greater. I enjoy being able to read over an effect until it makes perfect sense. Watching videos isn't in the same realm.
There is a wide assortment of effects and reveals throughout CMFTE. You'll learn new methods to find cards, manipulate cards, and reveal cards. This is NOT a book of beginner magic, nor is it a book for knucklebusters. It's just a good 'ol fashion 120+ page book full of original thoughts from a magician and mentalist who has performed for many years on both sides of the ocean.
The downside of reviewing a book is the inability to speak to all the many effects. Paul's book contains almost thirty effects and I can't do everything justice, so I'll try to write about several different effects I found very interesting. I think these are a good cross section of CMFTE.
Up/Down Oil and Water… Oil and Water is one of the all-time classics of magic. Many performers have put their own twist on it, myself included, but it never occurred to me to use Zener cards. ( Zener cards being what some folks call ESP cards ) This is a two phased routine that uses seven cards, although the audience assumes it to be six – Circles and Wavy Line cards. Based on the formative Judah method, Paul takes it to places unseen.
Let me say this.. although the ad copy says no skill is needed for Paul's book, I would say there is definitely a certain skill level needed… probably somewhere between beginner and intermediate. A number of different sleights are used throughout the book, but most are sleights that don't require a great deal of physical skill. The above effect, for instance, uses a multiple turnover and an optical count, neither of which are beyond the average beginner, although you may need to look a move or two up.
This is NOT a deal breaker, nor should it be of great concern to anyone wanting to buy Paul's book. Like most good works.. you're going to learn a thing or two.
Another favorite was Streamlined Jumbo. This four Ace production uses a very original method to reveal the Aces. Based on Aldo Colombini's Jumbo, except easier, cards literally 'fall' into the spectator's hand. This was one of several effects where ample photos made the handling so much easier.
Wouldn't Play Cards With You is another favorite because I'm a sucker for Ace production effects. This one has the spectator finding their own selection.. and then the four Aces. Quicker than some of the other effects, but packs a surprise. Very good if you perform restaurant magic or walk-around.
Soft Curve is one of a couple effects using the classic Dudeney folding procedure. Paul's version uses Zener Cards and a unique tracking method he discusses during the instructions.
Every effect in this book ends with a crediting section that not only credits the handling, but usually offers a bit of history and the lineage in relation to his method. Very helpful if you enjoy knowing a bit of history about a certain effect or technique. Paul knows his stuff, and has an almost encyclopedic mind. I'm jealous..
Thoughts On Multiple Card Revelations. This was one of my favorite sections of the book. Paul and I sat in a convention room recently and watched as Steve Beam amazed the audience with his multiple card revelation. I wanted to learn it so bad, but the time was limited and the explanation complex. Reading Paul's explanation gave me great insight into what may well be the single greatest visual card effect in all magic. Being able to reveal the identity of ten cards or so goes far beyond the audience's ability to grapple with the mind of the magician… not to mention the fact it fools even most magicians.
Some of the effects read more like a treatise on technique and magic. Oh, Paul always gets around to the crux of the matter.. but it's interesting to take little side journeys with Mr. Hallas as he talks about the paths that lead him to an effect, a method, or a conclusion. There's way more here than simply twenty-eight tricks between two covers.. There's an assemblage of original thoughts and methods from a consummate professional you can buy for a trifle..
Complete list of Effects:
Under Pressure – Traveler in Time – Being In the Right Place – Up/Down Oil and Water – Assembly Reverse – Simple Addition – The Marriage – Repeat Bluff Sandwich – Foursome Moresome – Before Some – Wouldn't Play Cards With You – Streamlined Jumbo – The Dudeney Coincidence – Soft Curve – The Special Spectacles – The Tree of Knowledge – Direct Gypsy – A Cato Named Klondyke – Pinky Ovette – Center Double Control – Simple Double Card Control – Thoughts on Multiple Card Revelations – Fate or Foutune – Squaring the Circle – Dominant Arthur – Combo – Magic For Distant Friends – The Last Word
$25.00 From Murphy's Magic and dealers carrying their line of products.
https://www.murphysmagic.com/product.aspx?id=65883&fbclid=IwAR2jPOZ7GgVD17DBPuTX4OeIERaYsn_mx-oWk5mgOKDsufI2PS_QjYw1J64
Review by Rick Carruth for the Magic Roadshow