Fire When Ready – John Bannon – A Review
Fire When Ready – John Bannon – A Review
Fire When Ready by John Bannon – A Review
After the bestselling smash hit releases 'Bullets After Dark' and 'Bullet Party', John Bannon is finally ready to close out his 'Bullet' trilogy. The third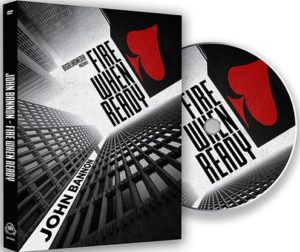 and final entry is Fire When Ready, a veritable feast of card magic delights. Fueled by Bannon's inimitable style of easy-to-achieve, yet staggeringly powerful card magic, this is a project you NEED!
Over two packed discs and an immense 180-minute running time, Fire When Ready will arm you with some of the strongest card magic imaginable. From Bannon's go-to opener for more than a decade 'Line Of Sight' to the impossibly clean think of a card 'Proxy Shock'. The ten featured routines are audaciously constructed and require only the most basic sleight of hand, yet, they are tricks that are destined to be in your arsenal for EVER!
Proxy Shock – They think of a card. The deck is shuffled. It looks like you miss… then BOOM! They realize they were just being set up for the sucker punch.
Rock The 'Voque – A spectator reads your mind, bit by bit, nailing the card you thought of… and you can prove it!
Mundo – All the impact of 'Out of This World', but in a small packet, and with a twist that will fool EVERYONE!
Cut & Run – Produce the four Aces from a deck repeatedly shuffled and cut… by your SPECTATOR! This is a killer utility!
Hybrid Holdout – Your participant shuffles and cuts. Top stock: Controlled?!?
Stealth Aces – A classic Ace Assembly, that combines easy handling with a devious construction!
Big Fat Bluff Aces – John's hidden gem. This assembly is a showpiece, and features several astonishing kickers, and will leave EVERYONE reeling – laymen and magicians alike!
Blues Alley Jokers – Truly shocking appearance of Jokers sandwiching a selected card.
Clean Out Of Sight – Vernon's classic gets the Bannon treatment – a spectator shuffles and thinks of a card, without you touching a thing. Then, following the spectator's intuition, you zero in on a card they've genuinely thought of, and never named. BOOM!
Question Zero – A borrowed, shuffled deck. A thought of card. Zero questions, maximum bang for minimal buck!
Line Of Sight – What does John open his card sets with? Line of sight. And you will see why! John teaches all the tips that make this shocking moment of mental card magic work, with the pack in the spectators' hands.
My Thoughts:
You have to like John Bannon. Oh.. I'm sure there's someone, somewhere who doesn't… but some folks don't like Santa Clause or the Cadbury Bunny either. Regardless, John's style and timing appeals to my inner magician and I have a preconceived admiration for his work. Perhaps that means I look for the good instead of the bad. So be it….
FIRE WHEN READY is one of a three part series John calls the 'Bullet' trilogy. All three have one thing in common: They are a series of fairly rapid fire effects that are extremely practical, never convoluted, and get straight to the point. These are effects that are perfect for that moment when someone wants you to 'show them something'. You don't want to drag them, secretly crying and screaming, through a six or seven minute monstrosity.. when you can Bannonize them with a beautifully constructed two or three minute gem that makes them beg for another…
Will I use everything taught on Fire When Ready? No… Like all DVD's, I have my favorites. (Thank goodness there ARE favorites.) I have four I am rewatching to gather all the specifics I'll need to add to my performance list. I have one other which I am making a permanent part of my repertoire. I can't ask for more than that out of a twenty five dollar DVD.
Like many of John's DVDs, I'll say this material is on the advanced beginner level. Nothing is really complicated and every move is taught. If you are a beginner, don't be afraid to make this purchase.. it will help you immensely.
Here's a list of effects and a few quick thoughts…
Proxy Shock – Uses a Bob Farmer move to switch in a card. A deck is spread and a spec thinks of a card they see. You make a guess, and miss… or do you? Very smooth handling and requires a double undercut and a weave shuffle… both taught.
Rock The Voque – Mental magic effect. Equivoque. Relies on ambiguous instructions and context to reveal a spectator's mental choice. A Touch force is used like an index. Very Sharp thinking… Another personal favorite.
Mundo – Intuition effect. Small packet version of Out of this World. Spec deals into two piles using the Ace of Spades as a key card. One move .. taught. One of my favorites..
Cut & Run – A nice four Ace assembly. Similar to a Ben Earl effect. A Three pile false cut and a few packet cuts get it done.. Uses a Frank Thompson false cut, which is very simple. Look like a pro on a poor man's budget.
Stealth Aces – Ace assembly. A false count achieves all the magic. John Carey effect. Very streamline. You WILL do this. Another personal favorite.
Big Fat Bluff Aces – Four Ace effect disguised as an assembly. Uses an Elmsley Count and Jordan Count Exchange. Four Aces turn to four Kings, and the Aces turn up somewhere they shouldn't.. Nice, visual effect.
Blues Alley Jokers – A Sandwich effect. Jack Carpenter effect. Uses a shift to achieve the end effect.
Clean Out Of Sight – Packet effect.. uses about half of the deck. Relies on spectator 'intuition' to find their selected card. Mathematical based. Out of Sight Out of Mind based. Take the time to learn this.. and you'll have something special.
Question Zero – Regular shuffled deck effect. Spectator picks five cards and remembers highest card. Cards are placed back in deck. Magi uses multiple shift and a swing cut to move the five back to the top. Well taught and only takes a little practice.
Line of Sight – Great premise. Quick and simple. Links back to Dear Mr Fantasy in 2005. Uses a Marlo glimpse and a little finger friction move to achieve the magic. This is based on an Alain Nu premise, and is my favorite effect. Fits right in with what I'm working on.. routine wise.
Line of Sight – Other glimpses. Three other glimpses are taught..
This is over three hours of card magic on one DVD. Everything is exactly what you'd expect from Bigblindmedia. Cameras, lighting and sound are more than adequate. Camera angles are precise and well-placed.
I am recommending FIRE WHEN READY to my friends and readers. This is sort of a no-brainer…
$25.00 From Murphy's Magic and their associates..
https://www.murphysmagic.com/Product.aspx?id=65048
Review by Rick Carruth for Murphy's Magic and the Magic Roadshow