Illusionist Derren Brown's four magic tricks for success onstage and in life
Illusionist Derren Brown's four magic tricks for success onstage and in life
The acclaimed performer and author on how he keeps things interesting in his Broadway show—and how those lessons apply to living your best life.
English illusionist, mentalist, and author Derren Brown has headlined Olivier Award-winning shows on London's West End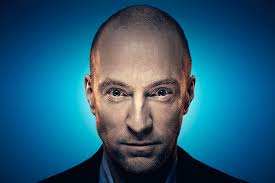 and performed in several TV series and specials, including Sacrifice on Netflix. He has also written five books on topics ranging from magic tricks to the philosophy of happiness.
On a break from starring in his Broadway debut, Secret, which is playing at the Cort Theater through January 4, 2020, Brown talks embracing vulnerability, connecting the audience, and how Greek philosophy has shaped his approach to performing.
DON'T LIMIT YOURSELF
Brown's work defies categorization, mixing theatrical and conjuring techniques with social psychology and science.
His secret?
Not limiting himself. According to Brown, his work revolves around "stories that we tell ourselves, the narratives that we live by." He says that moving away from traditional magic performance has allowed him to develop a deeper connection with his audience, "one of the difficult things about any sort of magic . . . is that it's just this quick route to impressing people. And I think for that reason magicians tend to be interesting for a little while and then become figures of fun or dislike, because it's sort of posturing after a while."
Now, he relies on psychological techniques to manipulate outcomes in addition to magic tricks. "When a magician shows you a trick, he's guiding how we edit reality to form this story that's amazing. But we're doing it all the time," he says, adding, "it's a great analogy for how we interpret the world. So we live in this infinite data source, there's all this stuff going on, there's an infinite number of things that we could pay attention to, but we edit and delete and we choose what we're going to pay attention to. And we make up this story and then we mistake that story for the truth and we live by that." READ MORE