Mortalis Playing Cards – Area52 – A Review
Mortalis Playing Cards – Area52 – A Review
Mortalis Playing Cards – by Area 52 – A Review
Rick Carruth
Mortalis Playing Cards are both collectible and marked. They are limited to a one-time run of 2000 decks, and will never be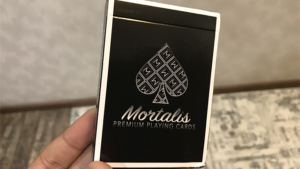 re-issued. Here's the Ad copy:
Mortalis Playing Cards is a deck of premium playing cards printed and manufactured in the USA by the United States Playing Card company. Fully marked, it hides its secrets in plain sight.
Only 2000 decks were printed, and will never be reprinted or restocked.
The optical marking system was designed in such a way that the closer you look, the less you see. It hides in direct sight to the untrained eye. Spectators, and even magicians, cannot identify it up close.
To the trained eye, it takes less than 2 seconds to identify and read a card just from the backs. It's designed in such a way that the whole system revolves around the working of a clock. If you can read a clock, you can read Mortalis's secrets. Perfect for close-up!
Printed by the USPCC on their premium stock, then double crushed to perfection along with an embossed air cushion finish. A traditional cut ensures perfect faro shuffles and table work. Saying that the cards handle like a dream is an accurate description.
The custom Court cards were built from the ground up, featuring borderless courts with popping, matching colors. The facial expressions on some cards have been tweaked to give a unique, personal feel. Every deck comes with a double backer, a duplicate card, and a full tutorial on how to read and use the marking system.
Designed by acclaimed artist, designer of the Mint Playing Cards, Christofer Lacoste in Canada, and realized and produced by Area52Magic and Pravar Jain.
My Thoughts…
As mentioned above, they are printed on USPCC's premium Bee crushed stock, with a traditional cut and embossed air cushion finish. Intended as a tool for magicians and gamers, as well as a collectible deck for the collector.. only 2000 of these decks were made..
They feel and handle very good, although I did have some trouble performing faro shuffles until I broke the deck in. This is attributable to the edges moreso than the quality of cards. It is also a very common trait of Bicycle brand cards.
As a collectable deck, I give it high marks. I like the overall look, sort of a stylized high-dollar look, and the soft feel I would expect from quality cards. After ten minutes of faros, they were ready to be put to use.
As a marked deck, I give it an exclamation mark.. and a question mark. The marking system involves a series of two 'marks' that tell you the value and the suit. They are structured similar to a clock face to make memorization easier. I can't say 'easy', as you will have to invest a little time into learning the method. The ad copy says the average user should learn to identify a card in less than two seconds, and the creator, Pravar Jain, says… you can properly identify any card in 'under 3-4 seconds'. Although not a deal breaker, we all compute at different levels. If you have reasonably good vision and cipher at a normal rate.. you should be good to go. Just keep in mind you'll need to perform some drills to get 'in the groove'..
Like virtually any marking system, (or memorized deck).. certain magicians will love this deck.. There's not way for me to tell you whether it's for you. Those who take the time to play with it, explore it's possibilities, and give it a proper spin.. will appreciate all the work Area52 has put into Mortalis Playing Cards.
$15.00    From dealers who carry the Murphy's Magic line of products..
https://www.murphysmagic.com/product.aspx?id=63250