Providence Playing Cards by The 1914 – A Review
Providence Playing Cards by The 1914 – A Review
Providence Playing Cards by The 1914 – A Review
The Ad Copy reads:
The eye of Providence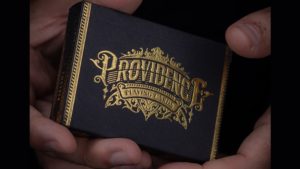 All seeing
All knowing
A symbol of the awakened
A call to view the universe through eyes of creation
We look
But we do not see
Only when the light of the soul blinds the eye of the ego
Will truth be set free
The 1914 is proud to present its flagship luxury Providence Playing Cards. Printed by the Expert Playing Card Company on their world-renowned premium card stock, Providence oozes class and style with its tantalizing metallic ink and gold foiling on each and every card.
Designed by Destino and inspired by the secrets of the universe, Providence represents mystery; The embodiment of both chaos and order; Infinite sequences of 52 ancient symbols that glide poetically between the hands and glisten in the light.
Housed in an embossed sideways tuck-box, Providence cards are traditionally cut for smooth handlings and perfect faro shuffles. Illuminate your mind and stimulate the senses with a brand new premium and tactile experience.
My Thoughts:
Providence Playing Cards are really, really nice. I know.. that's a lame review.. but sometimes the best review is a simple review. I have hundreds upon hundreds of decks from around the world, and, regardless of the hype or anticipation, I ultimately judge a deck of cards by how they both feel and handle in MY hands. I can't anticipate whether you'll like them.. but I feel, in this case, you'll most likely agree with me.
PPC's are designed by Destino (King & Legacy, Royal Verge, Esoteric) and presented by The 1914 (Revelations, Thy Will Be Done, Visible, Prohibition Monte). Both are highly respected. They are printed by the Expert Playing Card Company, located in China and, in my opinion, the first company to print cards fully comparable to USPCC. I suspect we are about to see a number of premium decks printed by EPCC.
The cards themselves are printed on a relativity thick linen-textured stock which reminds me of premium Bee's. They didn't faro that well for me straight out the box.. but it didn't take but about half a dozen times for them to interlock with ease. This is perfectly normal for premium, thicker cards.
The individual cards are printed with minimalistic numeric values and traditional pips, each outlined with a thin gold design. The face cards are traditional Jacks, Queens and Kings with a healthy dose of gold, red, and black. The Aces are also traditional.. except for the Ace or Spades.. which features a custom pip. The backs are all complex black and gold with a gold foil inlay in the center. It's obvious a lot of time and effort went into the design. If you decide to use these cards, opposed to collecting them, you will get many very favorable comments.
I've attached a photo of the tuck-box with this review. You can see the black matt finish and the heavy gold foil lettering and adornment on the flap side and a gold embossed magic eye and infinity design on the face. The tuck-box opens sideways, which in my opinion adds a nice bonus to an already loaded deck.
You won't get more ornate than Providence Playing Cards. At $15.00, they are very affordable, considering the overall unique design. I recommend Providence Playing Cards to my friends and readers.
$15.00 .. Available from Murphy's Magic and their Associates.
https://www.murphysmagic.com/Product.aspx?id=68981
Review by Rick Carruth