QUANTUM REALITY – Paul A. Lelekis – A Review
QUANTUM REALITY – Paul A. Lelekis – A Review
QUANTUM REALITY – Paul A. Lelekis
Reviewed by Rick Carruth
Quantum Reality is Paul A. Lelekis' latest ebook. Paul has taken full advantage of this Covid mess and utilized his time well. Most of Paul's ebooks are in the twenty to thirty page length.. but THIS one is over sixty pages and includes 14 effects and a couple of valuable 'lessons'.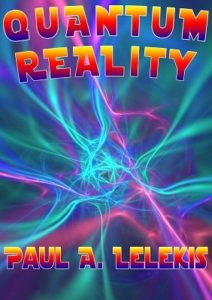 Paul is a simmering pool of magic knowledge, having spent many years as a professional performer. He has worked tables for thousands upon thousands of customers and righly deserves a platform to talk about what's important .. and what to avoid.. at the table. Not everything is strictly close-up or walk around magic. Some can be performed for small crowds in a parlour setting, depending on your situation.
I'll tell you straight up.. I consider this ebook to be for the advanced beginner to intermediate performer. It's not for the beginner. Although Paul is well known for writing effects for every level of performer, he has put considerable thought into QUANTUM REALITY and created a treatise of considerable worth. ( 'Treatise' is one of my favorite words, and is described as "..a written work dealing formally and systematically with a subject." QR is exactly that…)
** I'm not going to call QR a 'formal' work.. as Paul has a very easy and relaxed way of explaining an effect, but it IS a total work, since he goes into great detail to explain some of the finer points.. and includes 8 videos to better explain the most difficult or lesser known moves.
This is a full list of the effects Paul teaches in detail:
– QUANTUM OPTICAL TRIUMPH –
– SHE HAS QUANTUM POWER –
– QUANTUM NUMBERS –
– QUANTUM JUICE TO SILK –
– QUANTUM GREATNESS –
– QUANTUM MARKED CARD –
– QUANTUM MENTALISM –
– QUANTUM QUICKIE, QUICKIE –
QUANTUM QUARKS AND QUIRKS
– QUANTUM COINS ACROSS –
– QUANTUM CARD-(H)ISTRY –
– QUANTUM MATCH GAME –
– QUANTUM ULTIMATE PROHESY –
– QUANTUM OUT-TO-LUNCH PHENOMENA –
– QUANTUM PRETZEL LOGIC –
Aside from the detailed Introduction.. Paul also included 8 brain-busters at the end of the ebook to either make you feel superior to the rest of us.. or a little inferior! Either way, they're a nice bonus.
I particularly liked Quantum Optical Triumph, which ends with all the cards face down.. except the four Aces.. which are still face up in the deck.
Quantum Numbers finds a spectator's selection using two 'random' cards.
Quantum Juice To Silk is a good change of pace from the card work and very visually produces a red silk from a red liquid. Perfect for young and old.
Quantum Greatness is a gambler's bet.. except the gambler is bested by the spectator although both have four excellent cards.
Quantum Marked Card is a nice transformation effect where a spectator's card changes from a red back to a blue back in a quick and visual way.
Quantum Mentalism uses an Invisible Deck to pull off a simplistic, but effective, stunner.
Quantum Coins Across is Paul's version of Coins Across for those of you coin guys who feel 'sleighted' by all the card effects.
Quantum Card-(H)istry is definitely one of the most complex effects in this ebook, but well worth the extra effort. It's based on a 'History of playing cards' premise with a side of Tarot cards for good measure..
I think these descriptions give you a good idea of the cross section of magic in Quantum Reality. There's something for everyone. For those of you still recovering from social isolation and anxious to 'get to it'.. this is a wonderful way to expand your repertoire and open your mind to new ideas. It has my full recommendation.. for sure.
Available from Lybrary.com for $12.00
https://www.lybrary.com/quantum-reality-p-923882.html
Review by.. Rick Carruth – The Magic Roadshow