Summit – by Abstract Effects – A Review
Summit – by Abstract Effects – A Review
Summit – by Abstract Effects – A Review
(Gimmicks and Online Instructions)
This is the Ad Copy:
From the minds of Patrick Kun, The Other Brothers & Abstract Effects –comes a thought of card to Sharpie unlike anything you have EVER seen!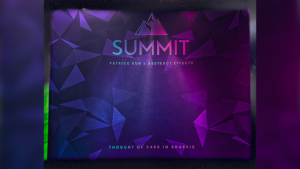 Even includes a routine and method for ONLINE performances.
At last, a thought of card to Sharpie that has NO card switches, NO sharpie switches, and a PRACTICAL yet mind-blowing method.
Your spectator THINKS of a card. You hand them a sharpie to write down what they are thinking of…but to their surprise, the sharpie doesn't actually work.
You take the sharpie from the spectator, and WITHOUT ANY MOVES, and while keeping the Sharpie IN VIEW THE ENTIRE TIME…you open it up to REVEAL a card rolled up inside.
The spectator still HAS NOT SAID, OR EVEN written down their card.
Then the spectator is asked to name their card. With NO switches or moves of ANY kind, the card is turned over and is the EXACT card the spectator named – EVERY TIME!
NO card switches or sharpie switches!
The gimmick is designed for easy use with a super practical method and ability to keep the gimmick on you wherever you go so you're ready to blow some minds at a moment's notice.
Summit comes with everything you need to perform right out of the box, and can be reset easily so you're always ready to perform! Great for beginners to workers & pros!
My Thoughts:
Don't you love it when you get a REAL effect in your hands! There are so many downloads and videos it feels really good to get your hands on something tangable. In this case, something that is truly magical and unique, something that enables you to do a bit of magic unlike anything you've probably performed before.
I don't want to get all mushy on you.. but I DO want to express my pleasure with SUMMIT and The Other Brothers.
I'm not going into detail about The Other Brothers and Patrick Kun.. if you are reading this review, you should be familiar with all three of these very talented magicians and some of the many effects they've created the past several years. Also, I don't know who did what or who came up with this or that. I only know all three are credited and the Other Brothers present the video tutorial for Summit.. which runs almost fifty minutes.
The premise is explained very well in the ad copy.. and everything in the ad copy is correct. I have a tiny issue with one phrase and I'll talk about it in a moment.
A spectator is asked to mearly think of a card. There is a bit of directing on your part, but if done as taught the spectator will never realize they didn't have a complete choice. When the magician and the spectator have narrowed the selection down to less than a dozen cards, the 'magic' happens..
The spectator, without naming their final selection, is given the Sharpie to write down their answer. Unfortunately, the Sharpie doesn't work. The magician tells the spectator the Sharpie sometimes gets clogged.. and proceeds to take it apart, VERY openly, and reveals a card rolled up insiide the barrel of the pen. The spectator is THEN asked to name their selection.. and the rolled up card is revealed to be a match. The ad copy says "..with NO moves of any kind." There is a slight move, but it is not visible to the spectator. It's not a point of contention.. but I didn't want you to think the card 'magically' transports to the Sharpie, or is in the Sharpie beforehand.
HOW it gets in the Sharpie is the masterfull aspect of SUMMIT. Tools are used. But.. they are minimal and unobtrusitive. I think THAT is what makes this a unique effect. The 'tools' themselves are also unique. I am not aware of anything similar.
Up front.. this is the perfect effect for a Virtual Performance. It is somewhat easier virtually than in person.. and the overall effect is just as strong.
A couple of other side notes… The gimmick is made with a real sharpie. Should your gimmick ever go south.. you can create another gimmick on your own.
The video is typical Murphy's Magic quality. This is not a highly stylized video.. but it doesn't need to be. It will convey everything to you a good tutorial should.
This is rated as an Intermediate level effect. It uses a few basic moves to keep the audience focused in the right direction. Although I'm confident an advanced beginner can perform Summit sucessfully.. you will not perform this straight out the box.
You need to run through the handling and patter a few times to avoid hiccups. There are also a couple of minor moves you need to perfect behind the scenes to make everything copacetic. Would you try to perform a mercury fold for the public with no practice? No. But.. once practiced.. it's not difficult. Same here…..
Is it worth $55.00 bucks? If you use it.. it certainly is. This is something that will become a staple in the routines of a number of performers. It's easy to set up.. and only requires you to slip a little something in your pocket beforehand. If you visit the link below and watch the demo.. you'll get a very good idea of exactly what YOUR audience will see.
I am recommending all my friends and readers buy this. If I get one email condemming me for recommending this product.. it's OK.. because I'll get ten more thanking me for recommending it. So there….!
$55.00 .. From Murphy's Magic and their Associates.
https://www.murphysmagic.com/Product.aspx?id=66618
Review by Rick Carruth