The Vault – Moving Pen by DingDing – A Review
The Vault – Moving Pen by DingDing – A Review
Video Download
The Ad Copy states simply…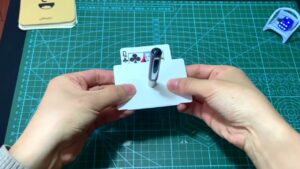 "This is a visual effect: a pen through a hole on the card and moves freely.
No magnets, no thread, easy to learn!"
My Thoughts:
DingDing is a young performer/creator who to date has created about 20 different effects for The Vault. This is his latest.. and definitely one of my favorites.
The magi shows two cards with a small hole punched in the middle of both cards. The two cards are shown front and back, and then one card is placed on top of the other with the holes aligned. A pen is stuck through the holes and, again, shown front and back. The magi then moves the pen up and down. As the top card moves with the pen, the bottom card remains stationary… which
-should- be impossible. Afterwards, the magi removes the pen and again shows only two small holes in each card.
DingDing has published about 20 Effects with Murphy's 'The Vault', including…
Hijack
Hijack 2.0
Sink Coin
Ink Permeation
Amazing Straw
Dice Through Card
Each effect ranges in price from $6 to $12 and involves a bit of DYI.. but not too much DYI.. as I am not a fan of creating your own gimmicks and probably wouldn't review Moving Pen if I were "put off".. Actually, it's not a bad idea to know how to create your own gaff from scratch.. providing it doesn't take hours to construct.
The Moving Pen tutorial video carefully explains everything you need to know in about 13 minutes. You will need a hole punch, some repositional glue, an Exacto knife or razor blade, and a couple of playing cards. The tutorial uses two Queens and a blank card, but you do not have to use a blank.
The gimmick can be created in 20 to 30 minutes. DingDing does a good job explaining and demonstrating everything you need to know. The video is a single shot and not overly sophisticated, but it doesn't need to be. No problems with the video or the sound.
Can you hand the gimmick out for inspection..? After your performance, you can openly show both sides of the gimmick.. but you cannot hand it out for close inspection.
Should you buy it..? Since this is a quick, visual effect.. I suggest you go to the Murphy's link and watch the video performance. It gives you everything you need to decide whether this is something for you. If you perform effects like the pen thru dollar, you'll enjoy performing Moving Pen. Remember, there's NO threads or magnets involved, and you can easily create several of these gimmicks at a time and they should serve you well through many performances.
$12.00 .. From Murphy's Magic and their Associates..
https://www.murphysmagic.com/Product.aspx?id=72180
Review by Rick Carruth for Murphy's Magic & The Magic Roadshow