Oyster Playing Cards (Marked) – by Think – A Review
Oyster Playing Cards (Marked) – by Think – A Review
Oyster (Marked) Playing Cards by Think – A Review
This is the Ad Copy:
Luxurious and elegant custom playing cards based on the fascinating process that enables a pearl to be created inside an oyster.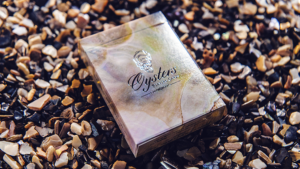 It was long ago, my dad used to work as a fisherman.
Growing up with him I got to learn quite a few things about the sea.
One that has fascinated me since, is the process in which a pearl is created inside an oyster.
A foreign substance slips inside the shell and to protect itself, the oyster covers it with a nacre. A true mystery and beauty of nature itself.
The layers of an oyster's shell somehow reminds me of the art of magic.
Layers of deception.
Layers of mystery.
Layers of secrecy.
There is always more to uncover.
With the Oyster Deck, that is what I've wanted to share with the community.
A back design that reflects complexity yet bold, minimalistic and classy.
Standard faces for everyday uses and situations.
As you scrutinize the cards, you will discover the hidden pearl.
A work in constant progress.
An intripid and deceptive marking system.
One that will ineluctably sparks creativity.
IDEA BEHIND THE MARKING SYSTEM
I am a huge wielder of the power of estimation and memorized deck (mnemonica).
In order to facilitate the use of it, I needed a simple and effective marking system.
For the one that knows mnemonica, you will be overjoyed by its simplicity. There won't be any reasons as to why you wouldn't take advantage of it.
For others. It will become a memorized deck trainer.
You'll get to practice anytime, anywhere.
Instantly know the identity of a card.
Instantly know its position.
Instantly know where you need to cut the deck.
My Thoughts:
Credit where credit is due.. Think Nguyen has created one very nice deck of cards. The Oyster Deck not only appeals to collectors.. but to magicians who are seriously into their card magic.
First.. the Oyster Deck is slightly thinner than typical Bikes and has what is labeled as "premium stock'. Don't quote me on this.. but the stock feels and handles like crushed Bee stock. Since its maker is the USPPC, it is most likely Bee stock. It handles good straight out the box. The edges were slightly thick, but it shuffled and faro'd like a premium deck from the onset..
What makes the Oyster Deck unique is this… It is a marked deck. It is not marked in the traditional sense, but marked for the Mnemonica stack. The deck arrives in 'almost' Mnemonica order. One cut gets you in position. With the stack, you know both the position and identity of any card in the deck. This is powerful stuff. Of course, you need to know Mnemonica.. but even if you don't, this deck serves as both a good excuse and a teaching aid to spur you along.
In addition, the backs are one way.. aiding in a number of card effects. There are two Joker cards, plus one double-backer and a fancy-do advertising card.
Again, Think has done a very good job putting this together. Although there are no instructions for Mnemonica, you can find info via Google. Tamariz wrote the definitive word on it, since he created it. Also, there are a number of trainers available online, as well as photos of the order of the cards. Here is a good, free site for you…
https://ulearnmagic.com/mnemonica-stack-order-juan-tamariz/
I was a little hesitant to do this.. but I'm going to anyway. There were no instructions detailing the 'secret' of the Oyster Deck. I suppose if you're familiar with Juan's stack, and look at the cards closely, you can cypher the secret. But.. I noticed a couple of selling sites who publish this PDF as part of their advertisement. So.. I'm assuming there's not really a secret. This link will enable you to download the PDF and see the location of the number on the backs of the Oyster Deck. Remember, this number tells you the location of a 'specific' card in the deck, and that location, if you know Mnemonica, tells you the identity of the card.
https://magicroadshow.com/wp-content/uploads/2022/01/Oysters-Explanation.pdf
The Oyster Deck is a wonderful tool for anyone who knows, or wants to know, the Mnemonica Stack. Aside from being well-crafted pasteboards, you can arm yourself with a secret completely unknown to your audience. I have bought many marked decks costing much more than 15 bucks, and I consider these a real bargain. Recommended..
$15.00 .. From Murphy's Magic and their Associates..
https://www.murphysmagic.com/Product.aspx?id=71168
Review by Rick Carruth for Murphy's Magic and the Magic Roadshow..