Cherry Casino Playing Cards – Pure Imagination Projects – A Review
Cherry Casino Playing Cards – Pure Imagination Projects – A Review
Cherry Casino (Black Hawk) Playing Cards by Pure Imagination Projects
This is the Ad Copy:
Based off vintage Las Vegas casino playing cards, Cherry Casino Playing Cards pays homage to the classics of Sin City. Like Jerry's Nuggets or Wynns, the Cherries back design was designed by Sam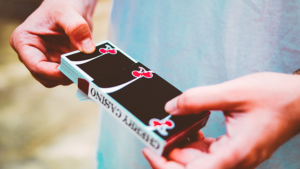 Devins to incorporate a simple, symmetrical back, perfect for card games and magic performances alike.
Now, we're back in black! Pure Imagination Projects is very excited to present our newest release: Cherry Casino V3 True Black Playing Cards with a darker scheme. The black version is even better than the last. It is new and improved, on crushed Bee stock with metallic red ink throughout. The cards look as beautiful as they handle, and we cannot wait to get them into your hands!
My Thoughts:
I have handled so many decks of playing cards, hundreds upon hundreds, it's hard to find something that attracts my attention. Cherry Casino does..
I measure a deck, in part, by how it handles straight out the box. I want something that doesn't have rough cut edges and faro's nicely from the get-go. Traditional Bikes don't meet my criteria. Although Cherry Casino's ARE made by the US Playing Card Company, they are made of the crushed Bee stock.. which is not only one of my very favorite finishes, but is very thin and easy to both shuffle and faro.
I did make the mistake of opening the tuck box, removing the deck, and wondering why they were not stacked in typical black, red, black, red descending order. Then, shuffling like crazy for a minute or two, before I remembered reading the decks come pre-stacked in a mnemonic stack. (I can be dense at times) A stack out the box is great for performing a little mental magic. Nice touch..
The cards are specially colored in a true black, which is great in the right light. Although the numbers and faces are traditional, which is a good thing, the darker black separates Cherry Casino from most decks.. and gives it a richer, more expensive look.
The Ace of Spades and Jokers are custom designed. Also, you get a blank face and double backer gaff cards.
Although my review deck was the Black Hawk, there are, I think, 14 different colors.. All the traditional colors, plus pink, purple, silver, teal, and black and gold. Most decks are priced by Murphy's at $11.95.. BUT, there are low production decks that range from $25.00 (2500 decks) to $250.00 (144 decks), have numbered seals, and generally sell for higher prices on the popular selling sites.
Again, these are smooth handling cards, not to mention collectable cards. Their basic design has a strong appeal to both magicians and collectors. The limited run decks may become the next Jerry's Nuggets. I am adding these to my collection of NOC's, stashed by my computer and ready for the next ZOOM meeting.. You should too. I think your only regret will be you didn't order more decks…
$11.95 .. Available at Murphy's Magic and their Associates
https://www.murphysmagic.com/Product.aspx?id=60352
Review by Rick Carruth for Murphy's Magic and the Magic Roadshow..