APOLLO – By Nicholas Lawrence & Worm – A Review
APOLLO – by Nicholas Lawrence & Worm – A Review
Red or Blue Backed
Here's the Ad Copy:
APOLLO is a unique and realistic Finger Through Card & Restoration effect, that's ready to perform right out of the box! You'll LOVE performing Apollo LIVE and for Social Media. It is an excellent stand alone effect but also a great follow up to any Torn and Restored tricks.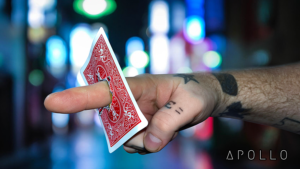 APOLLO GIMMICK INCLUDED
Here's what happens… Grab a playing card and with your finger start to push on the center of it… Push and twist until your finger bursts through the card! After this small feat of destruction, cleanly display the ripped and frayed card impaled on your finger. Show the card 360 degrees with absolutely NOTHING to hide!
It's actually pierced…
Remove your finger and display the destruction again briefly, then with a quick twirl of the card it instantly restores itself… Leaving NO trace of the hole on either side of the card!
Show the card front and back with nothing extra in your hands!
(This mechanical gimmick looks like a normal playing card from your audience's perspective and only you know the secret…easily switched for an examinable duplicate card and end clean)… 26 minutes of detailed instructions with Nicholas Lawrence & Worm!
My Thoughts:
I really like gimmicks. Maybe it's just me… but it seems gimmicks now-days are far more complex than gimmicks in years past. Nicholas Lawrence (Revolver, Blade, Titan, Reduction, Impale etcs.) and Worm are specialists in creating gaffed cards and effects carried to extremes.
First off.. if you go to the link below and watch the trailer you'll see exactly what you get with APOLLO. Now, you'll not see everything you get.. but you'll see precisely what the audience sees. This is a finger through a card effect. It is not taught as part of a routine, but as a stand-alone sleight created to instill mystery and temporary confusion.
If you have owned the Cigarette thru the Quarter effect, then you have a very basic understanding of how this effect works. APOLLO is more sophisticated. Sticking a finger or thumb through a card requires a very different set of logistics to make it realistic.. and APOLLO is realistic to a fault. Even jagged edges and residue are built-in to add realism to your performance.
APOLLO is more than simply pushing your finger through a hole. There is a little work to be done both before and after the penetration. This is NOT complex work.. but it's something need to do to make it as strong as possible. You are not left hanging. Four different methods are taught on the online tutorial…
The Napkin Method – my personal favorite – that uses both a napkin and a card. The napkin aids in concealing the 'work'.
The Thumb Through Method – a slightly quicker method than above that allows me to stick my big, fat thumb through the card.
The Finger Through Method – Nicholas' favorite method.
The Quick Pierce Method – Leaves the spectator wondering what happened, and how…
-Plus- there is a section on switching out the gimmicked Queen for a normal card to make everything examinable. Because of the gimmick, you cannot hand out the card as is.. unless you switch the two.
The video is typical Murphy's quality. The sound and video are what you would expect for the price. The tutorial is 26 minutes in length.
Everything about the gimmick is performance ready. NO DIY. After watching the video you can immediately perform APOLLO.. although I recommend practicing to eliminate unwanted angles. (They are not a major problem, but may rear their nasty head if you DON'T practice a little.)
,
This is a well-made gimmicked card. It is ideal for this type effect, and should last a long time under normal circumstances. I recommend APOLLO to any of my friends and readers who enjoy these type effects.
$29.00 .. From Murphy's Magic and their Associates..
https://www.murphysmagic.com/product.aspx?id=70675
Review by Rick Carruth