The Vault – BOX CLEVER – by James Brown – A Review
The Vault – BOX CLEVER – by James Brown – A Review
The Vault – BOX CLEVER – by James Brown – A Review
Video Download
This is the Ad Copy:
The best card under box routine you have ever seen!
A freely chosen card, which can be signed, vanishes from the deck multiple times, appearing under the card case, inside the card case and finally the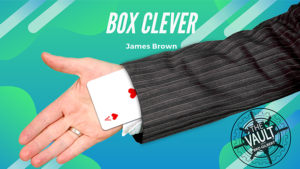 entire deck jumps into the case! ALL DONE WHILST THE SPECTATOR IS HOLDING THE CARD CASE! This is the kind of routine that gets more impossible with each phase and the closer they watch!
A master class in misdirection that is surprisingly easy to do!
My Thoughts:
James is a very well-known magician from the South of England. He has been awarded, among other things, The Magic Circle close-up magician of the year… which is quite the big deal. His style of magic is best described as a cross between close-up magic, hypnosis and pickpocketing, all presented in a humorous and casual manner.
I have not reviewed other effects by James for Murphy's.. so I didn't know for sure what to expect. I was very pleasantly surprised…
BOX CLEVER really is a type of master class on misdirection. After a card is selected by a spectator, it strangely appears under a card box in the spectator's hand. Somehow, after being placed back in the deck, the card again appears under the card box. Then, it's place BACK in the deck.. and this time it appears inside the card box. After one last go-around, the card is the (apparently) only card in the magicians hand.. and the rest of the deck is now revealed to be in the card box.
Everything is achieved through smart misdirection and a very clever one-ahead. There are NO gaffs or props. Everything is strictly above board and is a very, as the name implies, 'clever' use of misdirection. I had to watch the video a couple of times to see what I knew was happening.
There are a couple of sleights.. but nothing beyond the average magician. James does utilize a side steal to get a card to the top.. but you can achieve the same action by simply bringing a card to the top using your favorite method. Also, there's a time or two when you present two cards as one. That's basically it…. James details his side steal.. if you need it.. and explains everything in detail.
I encourage you to go to Murphy's site and watch a four minute video of a live performance… a FULL performance with nothing left as an added surprise for the buyers. The video tutorial itself is well-filmed and runs about fourteen and a half minutes. Box Clever is available as an instant download, and you can start learning immediately.
This effect is well worth the cost.. particularly if you are a walk-around or table hopping guy (or lady). It's VERY strong.. and something you WILL use, over and over, for years to come.
$10.00 .. Available from Murphy's Magic and their Associates.
https://www.murphysmagic.com/product.aspx?id=69223
Review by Rick Carruth