The Vault – Card Sleights by Shin Lim – A Review
The Vault – Card Sleights by Shin Lim – A Review
The Vault – Card Sleights by Shin Lim – Video Download
The Ad Copy for Shin Lim's video reads as follows:
Shin Lim's 'go to' routine with a deck of cards!
Learn what Shin Lim does when somebody hands him a deck of playing cards and asks him to perform. Fast. Effective. Amazing card magic at its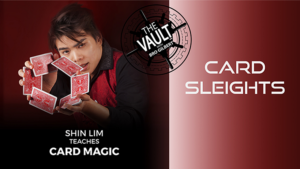 finest. Taught to you by a master. Download the video and learn from Shin Lim!
My Thoughts:
If you aren't familiar with Shin Lim… I'm not sure how you found this review, or why you're reading it. That said, I'll dismiss the introduction and long list of accompLishments for someone so utterly young. If you watched Shin Lim on Americas Got Talent and Penn and Tellers FOOL US, you know he's a natural talent.. born to perform magic at a level most of us could never achieve with a lifetime of practice. Fortunately for us, Shin Lim didn't have a mentor.. nor was he heavily into magic books or dvd's. He learned most of his magic via YouTube and also understood the need to utilize his artistic talent to develop each effect into a small work of art and pride. That led to the development of a personal style that can't be outright compared with any other magician. In other words… Shin Lim is an original.
Like many great performers, Shin Lim has a plethora of differing sleights, props, utilities and gaffs to aid his performances. But.. when someone hands him a deck of cards and ask for a mini-performance, and he must perform solely with what's at hand – this is the routine he uses.
I'll tell you beforehand he actually uses sleights most of you are already familiar with, and aside from a Queen of Spades tattooed on his chest, presents a routine you can duplicate with regular-guy abilities. Actually, you could get a temporary tattoo, like Shin Lim used initially, and perform tit-for-tat…
Shin Lim doesn't waste time. He begins this 22 minute video performing his routine for a pretty, young lady.. and doesn't slow down till he's ready for the explanations.
I'm not going to delve into all the effects, as you've probably seen him perform everything on TV.. but I'm going to explain the sleights he uses, to give you an understanding of the lack of complex sleights and a truly killer routine based on classic moves.
Shin Lim teaches his:
Riffle Force and Pinky Break. Forcing the Queen of Spades is essential to his routine.
Criss Cross Force. An alternative to the Riffle Force he swears by…
Milk Shuffle to retain the top card. By his own admission, this is his main control.
Twirl Change at Portrait Level. Eye candy for the audience..
Erdnase Color Change and Subtleties. Carefully taught since it's used multiple times.
Card to Mouth and detailed Mercury Card Fold. The kicker to this routine.. again, taught carefully from multiple angles.
Remember.. everything is Shin Lim's way of doing things. There are little, obscure tips here that will help many of you revisit sleights you learned years ago.. and abandoned in your search for 'Shin Lim type' magic. Well.. for ten bucks.. you're going to learn it all over again.. and kick yourself for your lack of creativity.
There's no doubt in my mind 90% of you guys could benefit greatly from CARD SLEIGHTS by Shin Lim Although many of you may know how to perform these sleights.. you don't know Shin Lim's methods.
$10.00 (Instant download) From Murphy's Magic and their dealers.
https://www.murphysmagic.com/product.aspx?id=66365
(Review by Rick Carruth for Murphy's Magic & The Magic Roadshow..)