The Wealthy Magician – A Review
The Wealthy Magician – A Review
The Wealthy Magician: Manifesto for Professionals by Richy Roy
Master the Business of Magic
I'm a marketing junkie. I've published articles and newsletters for years detailing marketing techniques. That said.. when I received The Wealthy Magician, I couldn't wait to dig in and see what Mr. Roy had to say about marketing and magic. Here is the ad copy…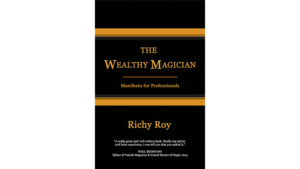 "Start living your dream as a professional entertainer by learning the strategies and tools used by leaders all around the world, as it applies specifically to magicians of all types. The skills and abilities gained from this book will give you the edge over your competitors and bolster your finances.
The best part is, you don't need to be a grand illusionist or have to travel the world to become a full-time working professional magician. Also, you certainly don't need to perform in cruise ships, casinos, or sold-out theaters to earn a six-figure income as an entertainer. You can take these developed strategies to start building your sustainable business in your own hometown, regardless of its size or how much competition works in your area. Learn what you are truly worth and why you're not charging nearly enough for your services, regardless of what type of magician you are."
You will learn:
– What your price tag should be
– Why you're not charging enough
– Why you're worth every dollar
– How to add value to your services
– How to master social media marketing
– The best way to negotiate higher prices
– And so much more!
My Take….
At 331 pages and 85 chapters.. THE WEALTHY MAGICIAN is quite an undertaking. Then again, marketing is quite the subject. Richy is determined to help everyone, and willing to tackle almost every subject you can think of concerning our art.
I've read many a book on marketing, whether it was marketing yourself, a product, or a cause. Many of the same techniques that apply to selling a product, for example, apply to selling yourself. And, as magicians, that's exactly what we do. Why should someone hire me over the magician on the other side of town? What can he offer that I can't? Unfortunately, many magicians think it comes down to price and who is more affordable? That could be true, but if you know anything about marketing, you understand that good marketing takes price out of the equasion. Our 'goal' of offering the best price is perhaps our biggest downfall.
The Wealthy Magician is divided into three parts: (1) Pricing your Act. (2) Marketing your Act. and (3) Selling your Act.
Richy is a firm proponent of getting the highest price possible for your act. He spends page upon page guiding you in how to value yourself. Unfortunately, most magicians undervalue themselves out of fear. They are afraid of asking for what they want.. and instead ask for what they think they can get. Richy feels the typical magician is caught in a mindset of what he thinks he should be worth, as opposed to what he's actually worth. Unfortunately, many magicians arrive at the figure of what they 'think' they're worth based on what lesser magicians charge for their services. Richy goes into great detail with examples and real life stories to prove his points.
The marketing portion is equally as detailed. Once you determine your true value, it's time to put yourself out there and get recognition. There are so many ways to market yourself, and I know from experience Richy hits the nail on the head with many of his chapters… particularly " Be Uncommon" and "Create realistic, specific, and demanding goals.." You aren't David Copperfield.. but you also aren't the magician down the street anymore. You're a special performer.. a professional.. and you deserve to be treated like one.
Probably the one area magicians don't understand most is.. selling. You HAVE to sell yourself. You have to set yourself above other locals. You have to show your clients why they should contract with you. What's in it for them? Why are you worth your fee?
I'm so glad Richy Roy took time to go deep. At $49.95 THE WEALTHY MAGICIAN isn't cheap, but he has made it worth the price. If you can learn to raise your fee even ten to twenty percent.. how much more will you make next year? This isn't an investment in your magic library, it's an investment in yourself and your future.
Honestly, if you can't profit from this book, I don't think you're intended for the world of magic. Continue to give free and/or inexpensive shows and be happy. Don't think about money. Not everyone should be a professional performer. But, if that's your goal, and if you're not going to rest until you're making a good living as a magician, invest 50 bucks in your future. Don't think twice…
$49.95 from dealers who carry the Murphy's Magic line of products..
http://www.murphysmagic.com/product.aspx?id=62387
Promo video https://www.youtube.com/watch?v=-MdMlmaZ3TI
Review by.. Rick Carruth