Warrior (Full Moon Edition) Playing Cards by RJ – A Review
Warrior (Full Moon Edition) Playing Cards by RJ – A Review
Warrior (Full Moon Edition) Playing Cards by RJ – A Review
The Ad Copy: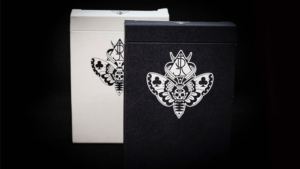 Warrior Playing Card (WHITE) features:
1 double-backed card
4 of Clubs duplicate
Custom court cards by Daniel Schneider
B9 SlimLine Linen Finish stock
Manufactured by Cartamundi
Designed in consultation with none other than Daniel Schneider (Black Roses Playing Cards), with some of the biggest names in the industry represented on the court cards.
While the back design might be minimalistic, the deck is packed with hidden revelations and built-in magic tricks. These are the Warrior Playing Cards by RJ.
My Thoughts:
As there is only a slight variation in bonus features between the White Warriors and the Black Warriors, I'm going to refer you to the review for the Black Warrior Playing Cards for the details. The review for the Blacks should be posted directly above this review. I hope you take a moment and give it a read..
I'll say again.. I really like these cards. I like the way they handle and the SlimLine Linen Finish stock. They are cut for flourishes and faros, and designed for style without being overbearing.
They provide a variety of features, including special reveals on court cards and the Jokers.. as well as custom designed court cards that are different without being too different.
I'm recommending Warrior Playing Cards to my friends and readers.
$15.00 From Murphy's Magic and their associates…
https://www.murphysmagic.com/product.aspx?id=67949
Review by Rick Carruth for the Magic Roadshow