BRAIN GAMES 1 & 2 – Harvey Raft – A Review
BRAIN GAMES 1 & 2 – Harvey Raft – A Review
BRAIN GAMES 1 & 2 – Harvey Raft – A Review
This is the Ad Copy for Brain Games…
Harvey Raft is an underground mentalist and magician who, after more than forty years as a performer, is finally releasing his unique creations in TWO BOOKS. There are over 60 effects ranging from card magic and mind-reading using non-gaffed cards, as well as his original routines using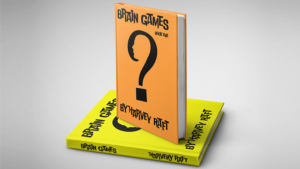 gaffed decks which, for the first time, you are given access to and able to print your own.
There are also chapters on Change Bag magic and a section of Christmas magic effects.
Book Two is unique in that it comes with access to PDFs of special cards that you can print at your local print shop. These range from decks of cards with Harvey's original designs for marked cards, or single cards used in novel ways. You will have access to 70 downloads.
The content ranges from self-working effects, math-style magic, non-card magic and themed magic using Movie cards, Zenner cards and more.
Over 400 pages of material – hard cover books.
BOOK ONE:
SENSATIONAL VISUALIZATIONAL!
DEAL-IRIUM
DECK-ADENCE
BOTTOM'S UP
TOPSY-TURVY
PSYCHIC COMPUTATION
JUST WEIGHT
SAID-ATION
SUPER HEAR-SAY
YU – SEDDIT
CARD CENTS
GO FIGURE
GIMEE A HIGH FIVE
MAGIC CIRCLE
ESPECIALLY FOR YOU MATCHIC
TOTAL RECALL
PERFECT TEN
MYSTIC IMPRESSIONS
I-DEAL-OLOGY
WELL XECUTED
HOWDIDJOODOODAT?
IT'S IN THE BAG
DISCOVERY!
POP 'N' GO
CURRENT ATTRACTION
YEAR TWO DATE
COINABILITY
MOVIE MAGIC
VALI-DATED
CHANGE BAG MAGIC
COLORING BOOK
SOX COME IN PEARS
CARD & BALLOON
LETTERED BEADS
CUT & RESTORED SKIPPING ROPE
CHRISTMAS MAGIC
DOVE'S CHRISTMAS HOUSE
TOYS, TOYS, TOYS!
SANTA'S CHRISTMAS PARTY
MAGIC CHRISTMAS BALL
BOOK TWO:
IMAGERIE
DEAL-ECTABLES
PICTURE THIS
IT'S IN THE CARDS
IT'S IN THE STARS
FLAGGED
ALL -FOR- ONE One- For -ALL
INCREDIBLE E.S.P.
SHOW ME THE WEIGHT
ESP-ETEKEL
E.S.P.S. SURPRISE
OODLE CABOODLE MENE-TEKEL
LOCATION, Location, Location
MAGNIFI-CENTS
MENTAL IDENTIFICATION
MENTAL CONNECTIVITY
E.S.P. LOTTO PRE-DETERMINATION
LUMINARY
RALLY 'ROUND THE FLAG
TO THE NINES
FIGURE IT OUT
EXTRA SENSORY TELEPATHY
RULE OF THREE
OODLE CABOODLE
XTRA ZENSORY PERCEPTION
THE CHOSEN ONE
X MARKS THE SPOT
ZODIAC MARKED DECK
THE MAGIC OF THE GOLDEN ZODIAC
VALU-ABLE & SUIT-ABLE
My Thoughts:
Harvey Raft didn't find his way to mentalism until later in life. Although he was an experienced performer, he was proficient at house parties and corporate events, performing close up and stage magic. When he was exposed to mentalism about twenty years ago his mind went into overdrive. MIND GAMES is the result of that fateful encounter.
First.. lets clear the air. The creator of BRAIN GAMES, Harvey Raft, is my friend. Although I have never met Harvey in person, He and I have spoke on the phone on numerous occasions and emailed many times. Harvey is an original thinker, and I have certainly taken advantage of the opportunity to share ideas.
Now.. on to BRAIN GAMES.
When I first received these two books in the mail several months ago I was in the middle of eye surgery and couldn't read properly. I waited patiently for everything to heal.. knowing Harvey's books were waiting for me. I'm so glad I finally got to the place where I could properly dive in and give my opinion.
Both books are hard covered and printed on quality stock. It's obvious Harvey and his cohort, Paul Romhany, (Yes.. THAT Paul Romhany!) decided to go the classy route and
turn BRAIN GAMES into an investment. These are nice, big, easy to read treats that you will pass down to the next generation.
These books are not for everyone. If you have NO interest in mathemagic, and don't anticipate ever having an interest regardless of the quality of the material.. then I am not going to recommend Brain Games. Although you do NOT have to be a skilled math guy to appreciate Harvey's effects, it helps if you at least have an interest in effects that are mathematically based.
There are many effects you will perform like a champ but not have a clue how they actually work. And Harvey does NOT bog you down with the technical aspects and calculations that make folks like me feel like a dummy. All you need to know is the effects in BRAIN GAMES simply work. The concentration is on the performance aspect.. and not the intricacy of the math. Trust me…..
Book One is a buffet of effects ranging from magic circles to Christmas magic to psychic effects using stacked decks and a mathematical book test. There isn't any sleights… although you do need to have enough skill on occasion to quickly operate a calculator as your back is turned. There are a couple of effects utilizing a change bag and several effects that use calendars, birth dates or birth years. You should definitely be able to perform a false shuffle or false cut to work in conjunction with the effects requiring a stack. You will definitely need a dry erase marker and perhaps some laminated blank cards and an inexpensive calculator or two. (Nothing you can't pick up at an office supply store or the local dollar store.). Personally, I liked the book test and the forcing matrix effects and the magic circle, Harvey's take on the magic square. Needless to say, everything works if you simply follow directions.
Book Two is definitely the more 'mental' of the two. There are a number of ESP and mental magic type effects. Harvey has long been a very successful utilizer of Zener Cards. A number of his commercial effects put these props to good use, and he brings them back in book two in spades.. with a twist. They have an inherent strength with the public, who sees them as simultaneously mysterious and somewhat 'safer' than playing cards. Harvey calls the cards used in some of these effects 'ESP Cards', and they are similar to Zener cards.. except they consist of four symbols instead of five.
Book two includes numerous effects with several different type cards. Paul Romhany has a special page at Murphy's Magic that allows anyone purchasing Brain Games to access pages upon pages of special material. This includes templates for all the special decks used, calendars and any other material not commonly available. You can download both Word docs and PDF docs and print your own decks and props or have your local printer create anything you need. I know this sounds like a lot of work, but if you're like most folks you'll have your favorite effects and you save mucho money by only paying for what you will actually use.
Book two is actually referred to as SPECIAL PLAYING CARD MAGIC. There are numerous effects with very specific decks. There are tricks with celebrity cards, movie cards, cards with various shapes, places, numbers and symbols.. You name it, and there's probably an effect with it.. Again, everything you need to complete the effects are provided.. either in writing or in file formats. They're even a sophisticated mnemonic section to elevate your memory.
I could go on and on.. but reading the list of effects will give you a general idea of the many varied type of effects. It's hard for me to imagine one mind containing all this information. You will NOT find a bunch of rehashed effects from magazines and books eighty years old. These are well-planned and well-designed effects that deserved to be priced as they are.. You are paying for ORIGINAL ideas.
I am excited to have these books in my collection. I will use material from the books in my own effects, in my own way. I am so much better at adapting material than creating material.. and I am truly thankful to gentlemen like Harvey Raft and Paul Romhany who see the need for something other than 'think of a number between ten and twenty' or 'pick a card.. any card'. There's none of that in Brain Games, thank goodness, and I am grateful for their partnership and their vision..
I recommend BRAIN GAMES to my friends, readers and subscribers. I know it may be cost prohibitive for some of you.. but, as my mother was fond of saying when I asked for something new.. "Save up..!"
$150.00 .. Available from Murphy's Magic and their Associates…
https://www.murphysmagic.com/Product.aspx?id=66677
Review by Rick Carruth for Murphy's Magic & The Magic Roadshow.