DICEPTION – A Review
DICEPTION – A Review
DICEPTION by Haim Goldenberg & Matan Rosenberg – A Review
Instant Download / Review by Rick Carruth
This is the AD Copy.. followed by my Thoughts..
A quick new way to force for any number with the most organic of props that laymen recognize…Dice! Use one, two, three, four or even more dice!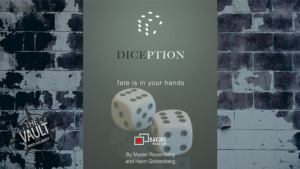 Know with absolute certainty that the force will work.
The VOLUNTEER will ALWAYS stop you on the right number.
Read minds!
Make killer predictions!
Be ahead of your audiences. in routines like mental epic, book test, ACAAN where knowing a number in advance can make or break a routine –this knowledge is invaluable.
Two different methods, with countless variations full routines learnt, routines that will knock the socks off audiences.
No assistant
No special dice
No lighting issues.
Simple construction
Almost self working !
Could be taught to a layman in 3 minutes, it's that easy and that effective
Two methods are provided allowing you to perform in all different types of ZOOM settings!
NO angle issues and all of the camera angles are solved for you!
One method works with the direct overhead camera setup only whilst the other works with all angles without restrictions.
Both methods are extremely easy to make and perform!
This is just perfect for ZOOM!
When we do get to do a live show again this method can work perfectly in a parlor setting or on stage with a projector and camera.
This method of forcing is essential whenever you need a quick almost procedure free choice of number
My Thoughts:
Despite the introduction of several electronic dice effects in the past year or two, I am a big fan of dice.. and all the seeming randomness you can achieve with dice. Everyone has heard of 'loaded' dice.. but few folks expect you to actually have loaded dice… and if they knew what we know.. they'd know loaded dice are very unpredictable.
Haim Goldenberg and Matan Rosenberg both have that same appreciation for dice, and recently decided to share their thoughts with one another.. which lead to this project and sharing their ideas with all of magic.
I really didn't know what to expect when I read the ad copy and realized DICEPTION was an instant download. I was expecting magnets or some such, and not DIY. What I got was.. DIY.. combined with a plethora of heavy though. Folks who follow my reviews know I am not a big fan of DYI.. I think it is generally laziness on the part of the developer. That said.. after watching the Diception video, I understand why this has to be a DIY affair. Each 'gimmick' or prop will be created by the end user to suit their particular needs. It HAS to be this way.. unless you are content with an effect that forces one number only. With the instructions included with Diception, you will learn how to create your own props, and you can create multiple props capable of forcing multiple numbers.
Let me back up a little. Diception is designed with ZOOM performances in mind. And the props for the first effect taught will work ONLY on ZOOM. If you are performing online, this method is one heck of a method. You can force the numbers on however many dice you can get into the bottom of a glass.. and you can force the numbers with 100% accuracy. The prop is not hard to create.
The second prop is actually created with a paper cup instead of a glass.. and is my personal favorite of the two. This method.. and I'm sorry I can't go into descriptive detail.. is ideal for ZOOM -and- live performances. The handling is quite easy, almost self-working, and can also be created easily- even by those of us who are DIY challenged.. This method is 100% effective also.
After teaching these two effects, Goldenberg and Rosenberg discuss several methods of using a forced number to achieve your goals. They use cups, books, coasters, nail writers and cards. They have some smart ideas related to using cards and dice together to pull off some fancy-do stuff…
I happy to say I don't have a problem with Diception's ad copy. Everything they claim is achievable. I might add that the claim of 'no angle issues' doesn't apply to the first effect. There IS an angle issue.. but the issue is eliminated by the position of the camera.
I had a few reservations about the cost of this video. Most downloads are not $36.00. Then again.. most videos don't include the number of effects in Diception. After watching the entire video and taking in everything taught.. I don't have a problem any longer! When you take the possibilities into account, they could charge more and be justified. What they're giving you are several valuable 'tools' to enable you to do some serious magic. I am a fan of Diception and recommend it to my Roadshow readers..
(This is not a paid review. I was furnished with a review copy and my recommendation is well-deserved)
This video runs almost fifty minutes and both the video and audio are typical of Murphy's Magic products.
$36.00 Available from Murphy's Magic and dealers who carry their line..
https://www.murphysmagic.com/product.aspx?id=68310