EVOLUSHIN MAGIC SET – by Shin Lim – A Review
EVOLUSHIN MAGIC SET – by Shin Lim – A Review
EVOLUSHIN MAGIC SET – by Shin Lim – A Review
This is the Ad Copy:
The EVOLUSHIN Magic kit by Shin Lim is the most innovative and exciting Magic Kit on the market!
Most magic kits put focus on the "toys" in the kit and not the person performing them. Shin Lim has developed a magic kit focused on the beginner,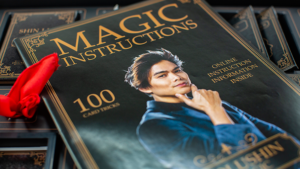 which makes YOU the star of the show!
Shin did this by creating and adapting SECRET TOOLS that will make you look like you have spent years learning difficult sleight of hand. The EVOLUSHIN kit will make you look like a professional Magician because all the tricks are professional level! Each trick has been handpicked to bring you the MAXIMUM response from your audience!
Everything is Easy to Learn and Perform!
INCLUDES OVER 100 MAGIC TRICKS
You will receive all the SECRET TOOLS and SPECIAL APPARATUS to perform AMAZING MAGIC!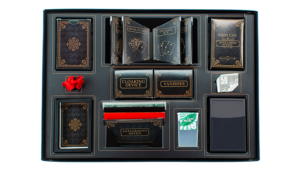 CARD MAGIC
COIN MAGIC
MAKE ITEMS FLOAT IN THIN AIR!
PAPER MONEY MAGIC
VANISH ITEMS IN YOUR BARE HANDS!
MIND READING
LIQUID MAGIC
MAKE ITEMS APPEAR AND DISAPEAR!
MAKE ITEMS MAGICALY CHANGE PLACES
PLUS, MUCH, MUCH MORE!
TEACHING:
All the teaching is taught by SHIN LIM! This is just like getting a one on one private lesson from one of the world's greatest magicians. Shin goes over all details of each trick so you will not only know the SECRETS but how to preform them properly.
BONUS! Shin Lim will be teaching 2 close-up acts! This way you will have plenty of magic to perform and will be able to create your own versions of these great tricks!
If you have ever dreamed of becoming a magician, then the EVOLUSHIN kit is for you! Learn magic the right way and start on your path to becoming a magician today!
My Thoughts:
You can't deny the popularity of Shin Lim. After winning Americas Got Talent, and then winning the Champions show of AGT, Shin Lim climbed to the very top of the magic world. Penn and Teller called him the best magician to EVER appear on their popular show, which is saying quite a lot. Right now, Shin has the name recognition.. so all that's lacking was for a manufacturer to partner with Shin to create an advanced product, much like his magic, to appeal to a wide sector of fans.
Yes, he's created a number of commercial effects for magicians, but what about the young magician who has more than a passing interest but doesn't have the age or skill to master the more difficult effects? Also, how do you create a kit NOT full of plastic 'toys' and self-working tricks that you could just as easily purchase in a dollar store?
This is where Shin paired with Murphy's Magic to create, easily, the most impressive magic 'kit' I've ever seen. Shin notes on the first page of his instructions his goal was to create a kit that made the performer the star of the show.. and not the gimmicks. His thoughts were.. lets take professional effects and revise them in a way so they are performable by young performers.
Looking through the kit, you see effects, many card type effects, that are sold to professionals. You also find props you would not find in other kits. Props for vanishes and levitations are featured throughout.. in addition to a number of card effects with gaffed cards.
If I have one negative.. it's that Bicycle cards were not used. The cards used are well-suited bridge size cards with a Shin Lim design, created with smaller hands in mind.. I'm sure. I don't have a problem with these cards.. it's just we all understand the natural suspicions of the public. I'm sure young adults can get by with more than us old codgers..
Shin also includes, in addition to the 30 plus page instruction book, an online portal where he personally teaches all the effects.. plus 2 full close-up routines designed to get the performer in front of an audience. This is only ONE of the features that makes EVOLUSHIN totally unique and justifies the slightly higher price. If you're going to charge more.. that's fine -if- you provide true value. Shin does….
I'm not going to list 100+ effects. Sorry. But I am going to list some of the effects many of you will recognize by name. Remember, all the props and/or gaffs are provided. Everything is ready to perform out-the-box..
Jumping Jacks, Turn Over and Color Change, Slam The Card Through The Table, (glide technique and double lift technique are taught), Your Card At Any Number, Forcing With a Handkerchief, Phone a Friend, Am I Wrong, Prediction From A Wallet, Your Choice My Mind, Order Chaos and Order, Changing Card in Glass, Card in the Bag, Shrinking Pack, Ghost Writing, Smarty Pants, Aces Together, Funny Finger, Vanishing Deck (props included)…
These are just a few. If you go to Murphy's and look at some of the photos, you'll get a grasp of some of the props provided.
I know some of you are wondering why I would review something you're not likely to buy. Well… magicians don't always perform magic. Sometimes they actually get married.. and.. gasp.. have children! And some of these children may have a liking of Shin Lim. So…..
I could actually see some of you guys and gals buying these wholesale from Murphy's and selling them during your backroom sales..(assuming we somehow rid our venues of this virus).. or selling these on your website. Think outside the norm and take advantage of Shin Lim's popularity.
I highly recommend EVOLUSHIN to 'kids' everywhere.. and a few magicians I know. Hey, there's a kid in ALL of us..!
$49.95 From Murphy's Magic and their special associates..
https://www.murphysmagic.com/Product.aspx?id=67376 (product page)
https://www.murphysmagic.com/evolushin/ (teaching portal and videos)
Review by Rick Carruth for the Magic Roadshow..