Expose by SansMinds Creative Labs – A Review
Expose by SansMinds Creative Labs – A Review
Expose (Gimmicks and DVD) by SansMinds Creative Labs – A Review
This is the Ad Copy:
A piece of nothingness slowly turns into a memory that will never be forgotten.
Instant visual changes are great for getting quick reactions, but slow CGI-like visual changes can imprint the moment of magic into your spectators'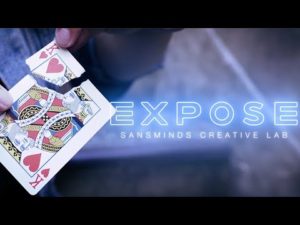 brains for rest of their lives.
As the card changes, you will notice their eyes get bigger and they'll stop breathing for a few seconds. At the end of the change, they will thank you with loudest WTF reaction you have ever heard in your life!
Expose by SansMinds Creative Lab will get you exactly what is described above.
You can go out and make the quietest people scream out loud as soon as you get Expose.
Why?
Expose is incredibly easy to do, and you will receive fully constructed gimmicks.
If you have your particular favorite decks to perform with, then you can also make your own version of Expose because the DVD also teaches you how to make the gimmick in no time.
Get that jaw-dropping reaction with Expose today!
What you receive:
1 Instructional DVD
1 fully made gimmick (Blue Bicycle gimmick)
My Thoughts:
First.. I want to congratulate whoever, (SansMinds I assume), created this effect. There's a ton of thought here. It's one of those effects that's hard to imagine being created during a sit down with a fellow magician.
The best way to understand what happens is to visit the Murphy's link and watch the video performance. Basically, a card is selected from the deck by a spectator. The card is revealed to be blank. A corner is torn from the card and spit-stuck to the deck. In a moment of clarity.. the blank corner of the card slowly and visually transforms to a court card corner. This corner is then peeled off the deck.. and shown to be a surprisingly missing corner from the card held by the spectator. Whew… There are actually two selections involved.. but for my sanity I have kept the description simple.
All this is achieved via a heavily gaffed card(s).. supplied with the instructional DVD. Thankfully, almost everything you need is provided. I did have to cut a corner from a card to make everything work. Also, you will have to score two cards to perform the effect in order to make the corner tear effective.
Aside from the gaffed card provided, they go into detail on the DVD teaching you how to make your own gimmicked card should you ever need another. The only thing not entirely true in the ad copy is you can make your own gimmick 'in no time'.. It may take slightly longer.. but, it's all spelled out in detail.
If you perform EXPOSE publicly, you will have to be aware of your angles and lighting. In the right light.. you'll totally fool your spectators. In the not so right light.. you won't. There is a principle involved here where a card, moved across another card, appears seamless if the movement is toward the spectator. If not, then a seam, or in this case an edge, will be seen. It's not a deal breaker.. but it is a consideration. It's difficult to explain these things without revealing too much.
The DVD was roughly an hour in length.. and mostly good quality. There are a couple of times when you have to double the volume to hear the speaker. Not sure why this wasn't cleaned up pre-production. Otherwise, I understood everything I needed to understand.
I recommend EXPOSE to anyone wanting a great visual effect.. who isn't afraid to tackle the public on their turf. There is very little to learn performance wise. You can master the handling after a brief period of practice. Get your angles right, get your lighting right, ( which can be controlled in part by your own shadow ) and you will have an effect that looks like real magic.
These type effects are hard to come by.. It reminds me of Katsuya Masuda's wonderful WOW gimmick, which is one of my all-time favorite effects. Yes, EXPOSE is a bit of a challenge.. but unlike WOW it does NOT appear to be a gimmick.. and the audience assumes you are achieving your magic with pure skill.
$34.95 Available at Murphy's Magic and their associates…
https://www.murphysmagic.com/Product.aspx?id=66592
Review by Rick Carruth for Murphy's Magic & The Magic Roadshow