Fire When Ready – John Bannon – A Review
Fire When Ready – John Bannon – A Review
Fire When Ready – John Bannon – A Review
Part Three in a John Bannon Trilogy.. from John Bannon and BigBlindMedia.. This is the Ad Copy..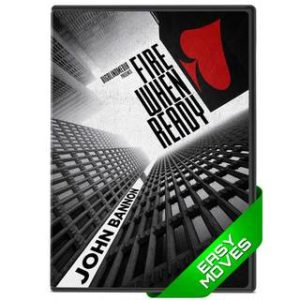 After the best selling smash hit releases 'Bullets After Dark' and 'Bullet Party', John Bannon is finally ready to close out his 'Bullet' trilogy. The third and final entry is 'Fire When Ready', a veritable feast of card magic delights. Fuelled by Bannon's inimitable style of easy-to-achieve, yet staggeringly powerful card magic, this is a project you NEED!
Over an immense 180 minute running time, Fire When Ready will arm you with some of the strongest card magic imaginable. From Bannon's go-to opener for more than a decade 'Line Of Sight' to the impossibly clean think of card 'Proxy Shock'. The ten featured routines are audaciously constructed and require only the most basic sleight of hand, yet, they are tricks that are destined to be in your arsenal for EVER!
My Thoughts:
Typical John Bannon. Of course, 'typical' John Bannon is like saying 'typical Beatles'.. or 'typical Dali'. For what it is, this is about as good as it gets. This DVD is listed as for beginners, so you know you aren't getting knuckle-busting card effects. But, just because it's for beginners doesn't mean it should be 'card tricks 101'.. and it's not.
This is a very intelligent collection of effects that virtually anyone can learn from. There is something for everyone. Yes, some of the tricks require more work than others, but unless you want to remain a beginner for the rest of your life.. just go with it.
Don't be afraid.. regardless of which end of the spectrum you're on.. Everyone will come away happy and the proud possessor of at least two or three effects you'll put to good use. What I like about Bannon is.. he wants every effect to look like something a very skilled performer would perform. Not a single effect in this collection is a dud. Not a single effect is something I'd be shy to perform for a table full of spectators. Several are magician foolers, which naturally get an extra star.. if I gave stars.
Run time is about 3 hours, and video and sound are typical BigBlindMedia. Nothing distracting or over-the-top, or less-than-expected. Just plain 'ol good production qualities.
The first line or two in these descriptions are from the Ad Copy. I have added my comments to the bottom of each effect…
Proxy Shock – They think of a card. The deck is shuffled. It looks like you miss… then BOOM! They realise they were just being set up for the sucker punch.
– This uses a regular deck and no setup. All the magic happens during the effect. This does use a sleight, taught carefully by John, and something that virtually anyone can do with a little practice. As with several of John's effects, he uses a double undercut during the effect, which is something you probably already know or can learn quickly. This is one slick trick when done at speed. It's also something you can show your magician buddies and they won't know how you did it.. unless they watched this DVD.
Rock The 'Voque – A spectator reads your mind, bit by bit, nailing the card you thought of… and you can prove it!
– Equivoque. Nice example of a technique familiar to magicians but not familiar to the public. You may not fool a lot of magicians with this.. but you WILL fool the dickens out of lay folks. Easy to do, if you can remember a few simple steps. No sleights, but may use a 'move' of sorts to help with selecting the right card. I can see myself adding this to a table hopping lineup as it's easy to set up and keeps cards off wet tables. One of my most favorite effects..
Mundo – All the impact of 'Out of This World', but in a small packet, and with a twist that will fool EVERYONE!
– Bannon adds a personal touch to this Out of this World plot that gives it a unique look. Not hard to do.. most of the work is done beforehand, and the only 'sleight' is a false shuffle. My personal opinion.. a few folks may discern a portion of the effect, but the vast majority of folks will be totally fooled. It's up to you to sell the improbability.
Cut & Run – Produce the Four Aces from a deck repeatedly shuffled and cut… by your SPECTATOR! This is a killer utility!
– Another effect with a slight bit of prep.. but you can actually achieve everything needed with the spectator watching you. Sort of a 'Ben Earle move as interpreted by John Bannon' makes everything possible. You will need to practice this to make it work properly, not because of difficult moves, but just to be able to perform the moves swiftly and convincingly. Another of my personal favorites.
Hybrid Holdout – Your participant shuffles and cuts. Top stock: Controlled?!?
Additional instruction on a fairly simple sleight…
Stealth Aces – A classic Ace Assembly, that combines easy handling with a devious construction!
– Ace Assembly. A John Carey effect with a John Bannon move. Although this effect has been around awhile.. it's still a winner. It reminds me of something I'd normally have to get from Paul Gordon. If you've bought packet effects from Paul, as I have, you'll know what I'm talking about..! You think cards are at one place, and discover they're someplace different. Everything is accomplished with one move, and NOT a shuffle or count. Slick…
Big Fat Bluff Aces – John's hidden gem. This assembly is a showpiece, and features several astonishing kickers, and will leave EVERYONE reeling – laymen and magicians alike!
– An Ace Assembly.. without the assembly. Uses an Elmsley Count and a couple of variations. This is the most commercial of all the effects.. and will require a little more practice than most effects.. but it will be well worth it. Learn to do this effect with pace and confidence and you'll be performing this for years to come.
Blues Alley Jokers – Truly shocking appearance of Jokers sandwiching a selected card.
– Sandwich effect. Jack Carpenter inspired effect utilizes a shift to move three cards from one known location to a seemingly impossible location. Everyone will love this one if you're willing to put in a little work.
Clean Out Of Sight – Vernon's classic gets the Bannon treatment – a spectator shuffles and thinks of a card, without you touching a thing. Then, following the spectators intuition, you zero in on a card they've genuinely thought of, and never named. BOOM!
– A little Vernon.. a little Martin Gardner. Math is the secret, but no worries. Everything is self working up to a point. Then, you need to perform a gentle sleight or two to get the final outcome. This will fool anyone, including most magicians.
Question Zero – A borrowed, shuffled deck. A thought of card. Zero questions, maximum bang for minimal buck!
– This is, technically, perhaps the most challenging effect on the DVD. But, with a little work, will offer the most reward. The deck CAN be borrowed, there is NO setup, and you do NOT ask any questions. Yet, you know their selected card and can reveal it in any number of ways.
Line Of Sight – What does John open his card sets with? Line of sight. And you will see why! John teaches all the tips that make this shocking moment of mental card magic work, with the pack in the spectators hands.
– Inspired by a Alain Nu effect, Line of Sight uses a very casual glimpse, taught by John, to obtain a freely selected cards identity. This effect relies on a story to sustain the mystery, and the spectator will never figure how you knew their card, leaving them with no choice but to believe your improbable story. This is a quick opener.
– Additional instructions on getting a glimpse..
I will recommend this to all my friends and readers of the Magic Roadshow. It's a good, quality instructional DVD that impressed me with all the strong effects you wouldn't normally expect from a DVD with so few sleights. NOT a self-working video, but some of the effects are darn close to it. Others will require you to get your hands slightly dirty.. but it will be well worth it…
$25.00 From Murphy's Magic and dealers who carry their line of products..
https://www.murphysmagic.com/Product.aspx?id=65048
Reviewed by Rick Carruth for the Magic Roadshow..