GET MONEY – Louis Frenchy & George Iglesias – A Review
GET MONEY – Louis Frenchy & George Iglesias – A Review
Get Money -Louis Frenchy & George Iglesias – A Review
This is the Ad Copy:
From the minds of Louis Frenchy and George Iglesias comes a diabolical effect that will make your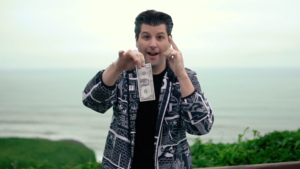 spectators hallucinate!
Based on the effect dollar to credit card created by George Iglesias in 1995 and popularized in the magic world during the past 10 years, Louis Frenchy now comes with this new version named Get Money where you will show 3 amazing transformations in just seconds.
Extremely visual, fast, very commercial, easy to do, portable and customizable.
Effect:
Show a $1 dollar bill and transform it into a $100 dollar bill, now give a magic pass and transform the $100 bill into a blue VISA credit card, now show it from both sides and when giving another magic pass transform it into a gold AMEX credit card that you can also display on both sides.
The magician can place his own credit card (real or expired one) and make a payment with the gimmick or switch the gimmick for another one. Everything is fully explained in the instructional video.
Available in three versions: Dollars, Euros and Pounds.
My Thoughts:
Louis Frenchy & George Iglesias have developed a very unique effect, gimmick and all, that's capable of doing everything the ad copy says it can do. There's no hyperbole or exaggeration, which is quite rare now days.. and I am excited to review a product that's worth getting excited about.
When I first opened GET MONEY, I noticed something familiar. The gimmick seemed to be something I remembered 'playing around with' a number of years ago. Soon, George talked about the history of GET MONEY and said it was based on an effect he created back in 1995 called Dollar To Credit Card. Bingo! I had one, although I seem unable to find it now.
Credit is also given to Bizzaro for Bill Breaker and Patrick Page for Paper To Bills. George always seems more than willing to give credit where credit is due. I appreciate that…
Although similar to Dollar To Credit Card.. this is a much improved and updated version, with considerably more flexibility and visual appeal. This version is totally justified.. and is NOT simply a re-packaging of an older effect. This is a major overhaul…
As the ad copy writes.. GET MONEY is a very visual effect that has the performer showing a one dollar bill, then with a rub, transforming it to a one hundred dollar bill. Just as quick, the one hundred dollar bill changes into a blue Visa credit card, which is shown both sides. When you think the effect is complete.. the blue credit card changes to a gold American Express card, which, again, is shown both sides. With a little practice, you can perform this quartet of changes in about ten seconds.
I know someone will asks.. can the final change be handed out for inspection? No. But you CAN, with improvising provided in the video, use the card in the final production to pay your bill. It requires attaching your personal card to the blue Visa card instead of the provided card – but everything is explained in the instructions. Nice touch..
I keep referencing the 'dollar bill', but Get Money comes in your choice of bills… Dollar Bills, Euros, or Pounds. EVERYTHING you need is provided, including very realistic bills and credit cards. They also include an extra set of bills should you ever need to replace the ones attached to the gimmick. There is ZERO DIY, aside from having to attach the gold card to the blue card with pre-stuck two sided tape. This takes about five seconds. You pull the back paper off the tape, stick on the card, and perform you little heart out.
This is probably an intermediate level effect. Although it is not difficult, it will require some practice concerning finger placement and timing. It is certainly within the skill level of anyone willing to spend an hour or two practicing handling and angles. That said.. angles are not extreme. You simply don't want folks at your sides, as the thickness of the gimmick can be detected.
I mentioned extra bills included for repair. There is a portion of the video devoted to replacing the bills, should it ever become necessary. There is also a section on repairing the credit cards should you ever experience a problem with the 'crease'. Enough said at this point. Just know the gimmick is made to last and every effort has been made to assure you can use your gimmick for a very LONG time.
The tutorial, available either online or for download, runs almost 50 minutes. There were NO audio or video problems. George is a good teacher, and, although he is from South America, he is quite easy to understand and a very engaging fellow.
I am definitely recommending all my friends and readers purchase GET MONEY. The price is totally justified, considering the quality of the gimmick and the overall strength of the effect.
$45.00 .. From Murphy's Magic and their Associates..
https://www.murphysmagic.com/Product.aspx?id=69851
Review by Rick Carruth