GUARANTEED WIN – A Review
GUARANTEED WIN – A Review
Guaranteed Win – A Review
This is the ad copy from Murphy's Magic: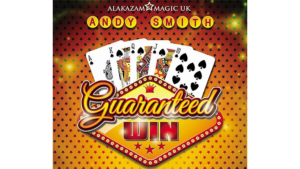 Guaranteed Win is a visual packet effect with a really cool gambling theme.
IMPACT MOMENT ONE!
Four Jokers (The Wild Cards) transform to match a selected card!
IMPACT MOMENT TWO!
The duplicate cards visually change in to a Royal Flush in SPADES!
Andy has created the perfect multi-phase transformation effect that is not only easy to do and easy to follow, but has an instant performance hook and quick reset. With its gambling theme and the awesome visual changes, this will be a GUARANTEED winner in your close-up set.
Comes complete with:
Custom printed gimmicked card on Bicycle stock
Training DVD
*Just add your own ungimmicked cards
My Take…
Brought to you by Alakazam Magic and Andy Smith, GUARANTEED WIN is a multi-phase packet trick that results in a guaranteed win poker hand, despite what your eyes tell you.
After a brief introduction, the magi shows a packet of four cards he's holding to be all Jokers. The spectator is given one of the Jokers to examine as the magi gathers the other cards. The spectator is asked to select a card from the deck, assisted by the magi of course, and the selected card, a Ten of Spades, is added to the packet held by the magi. Despite having shown the packet as four Jokers.. the magi now shows the packet to consist of four Tens.
The magi places one of the Tens on the table, introduces a Guaranteed Joker and explains its significance to the spectator, and adds it to the three remaining cards in his hand. With no apparent handling, the magi shows the four cards in his hand have changed to the Jack of Spades, Queen of Spades, King of Spades, and Ace of Spades… all of which are placed with the Ten of Spades on the table to create a Royal Flush… A Guaranteed Win.
I encourage you to go to Murphy's site, at the below link, and watch the video. You get a better idea of the visuals of this effect watching Andy perform it..
You're supplied with a gaffed card that makes the magic possible.. that and good handling instructions by the creator. You honestly wouldn't think the range of visual changes were possible with only one gaffed card. It is…
There are a couple of fairly unique handling ideas that took Andy several years of experimentation to perfect. He didn't want the magi to hold a hand full of cards. He finally settled on a method that enables the performer to hold, at most, five cards at any moment. But, the fifth card is never visible thanks to the gimmicked card.
The only point where I might have a very minor disagreement is saying the effect is 'easy to do and easy to follow'. It is NOT difficult, but it will take a little practice to remember the proper orientation of the cards. Remember though.. we're only talking four or five cards here.. The total running time of the DVD is just over twenty minutes, and you'll learn everything you need to know in that short a time.. so it can't be very hard, now can it? All I'm saying is.. you'll have a short time of watching the DVD with cards in hand as you learn the handling. It's not self-working.. but it's definitely not more than 30-40 minutes of work.
You'll be taught a very basic flustration count and a simple card force. That, along with the gaff card, is all you need to perform Guaranteed Win. This effect WILL fool your audience. It's well-suited for table hopping and walk around.. as long as you have a small surface on which to place a couple of cards. I recommend it to my friends and readers… Well worth the cost.
$19.99 at dealers who carry the Murphy's Magic line of products..
https://www.murphysmagic.com/product.aspx?id=57670
Review by.. Rick Carruth