How Houdini's Brother Kept His Act (and Legacy) Alive
How Houdini's Brother Kept His Act (and Legacy) Alive
Very interesting and very detailed article by Sean Cunningham for Real Clear Life..
It doesn't take a magician to conjure Harry Houdini's place in films and TV series. Productions range from 1953's Houdini with Tony Curtis (see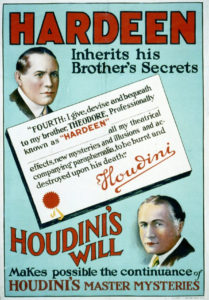 below) to Houdini & Doyle, a 2016 project in which he teams up with Sherlock Holmes creator Sir Arthur Conan Doyle to solve particularly mysterious murders.
He has been portrayed by an Oscar winner (Adrien Brody in 2014's TV series Houdini) and a Reservoir Dog (Harvey Keitel in 1997's FairyTale: A True Story—Doyle also appears in this one, played by Peter O'Toole).
But to feel Houdini's full impact, attempt to track how often he gets invoked in pop culture in general. Harry has inspired songs including Walter Brennan's "Houdini" in 1962, Kate Bush's "Houdini" in 1982, Foster the People's "Houdini" in 2012, and Travis Scott's "Houdini" in 2018. Not to mention the New York rap group Whodini put out an album in 1984 titled Escape. (Pitchfork named it one of the 200 Best of the '80s.)
Then there's Houdini's little brother, Hardeen. Unless you're a Boardwalk Empire fanatic, you probably don't know that name. (Even if you are a Boardwalk obsessive, you may have forgotten—Hardeen appears in the episode "Paris Green.") Hardeen is sometimes a minor character in works about Houdini, though often he gets left out entirely. If you knew Houdini purely through television, you might conclude his closest male companion was Doyle. (After all, Sir Arthur also pops up in 1998's Houdini and 1976's The Great Houdini.)
It is impossible to relate the story of Hardeen without Houdini—his brother is his great claim to fame. Yet Hardeen helped ensure his brother's name stayed alive, long after Harry passed on, long after Hardeen himself faded from prominence.  READ MORE