Z MATRIX ( Impossible One Handed Matrix ) – A Review
Z MATRIX ( Impossible One Handed Matrix ) – A Review
Z Matrix.. (Impossible One Handed Matrix) – A Review
Effect by Ziv.. Review by Rick Carruth
If you are a fan of Matrix coin effects, this is for you. The ad copy says: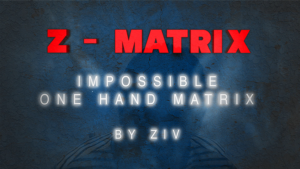 "A fast, easy to do, impossible matrix routine from Ziv. You're not hiding the coins under any cards – in fact, there are no cards at all! Amazingly, this all occurs using only ONE hand and it happens FAST! Spectators won't believe their eyes as the coins assemble and return to their positions."
BONUS:
Includes bonus routine Z – SPELLBOUND, whereby coins impossibly vanish, reappear, and turn into other coins. Incredible!
My Thoughts:
I was not familiar with Ziv before watching this video. Actually, I was familiar with a couple of effects created and/or sold by Ziv that I did not realize were his effects ( CORNER, for one ). If you purchase this instant download from Murphy's Magic, you'll STILL not know a lot about Ziv, other than he is very, very good at what he does. In this case, a one-handed matrix and a second effect titled Z-Spellbound that uses a silver dollar size coin and a Chinese coin.
Now, as for the ad copy.. If you read the second line of the description, it says you are not hiding coins under cards. That's partially correct. The first part of Z Matrix does use playing cards, three cards, to conceal coins. This in itself is a series of very magical moves, then.. the cards are discarded and the one handed matrix is displayed. It does not use cards. It IS fast.. and it is fairly easy to do. It is also one of those things you wil
l be asked to 'do again', since the audience will not be sure they saw what they thought they saw.
I like Z Matrix. This is definitely something I would purchase as I could not stand not knowing the secret. I will tell you that the real secret, aside from some nice handling, is a gimmick. You are left to create your own gimmick, taught on the video, and you can create it in about a minute. This is one of the few DIY gimmicks I didn't mind making.
Z Spellbound is a coin-in-hand routine that produces and vanishes both a Chinese coin and a dollar size coin. The handling is ideal for anyone who enjoys working with coins. You will have to practice a little.. it's not self-working.. but I honestly think you'll appreciate the time invested.
The quality of the video is very good. It was obviously created over a period of time and with care. The total video is silent, accompa
nied by background music, and a careful series of frames to show you exactly how to perform each aspect of both effects. Words really weren't necessary, and I'm sure they realized that.. Magic knows no boundaries..
A quick note.. the video is a crisp 6 minutes long. This was long enough to teach everything needed to successfully perform the effects. I know this doesn't sound long, but once you watch it, you'll know all is well..
If you want to add a couple of strong, quick effects to your repertoire, I recommend Z Matrix. I am not a strong coin guy, but I would, (and did) fell confident tackling Ziv's effects.
You can download Z Matrix instantly from Murphy's Magic and their customers. $9.95