Johnny Fox, Sword-Swallowing Showman, Dies at 64
Johnny Fox, Sword-Swallowing Showman, Dies at 64
Johnny Fox, a showman with a taste for the macabre and an appetite for swords, died 

on Sunday

 in Damascus, Md. He was 64.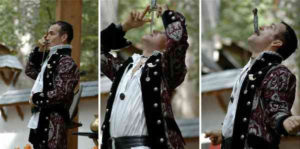 The cause was liver cancer, said Marc Hartzman, who included Mr. Fox in his book "American Sideshow: An Encyclopedia of History's Most Wondrous and Curiously Strange Performers," published in 2005.
Though Mr. Fox's array of talents included sleight of hand and hammering a spike into his nose, he was best known for sword swallowing, a skill he displayed all over the country.
His cancer was diagnosed early this year, but he was performing as recently as October at the Maryland Renaissance Festival, where he had been a regular for 37 years.
From 1999 to 2005, Mr. Fox also ran the Freakatorium, El Museo Loco, a small museum on New York's Lower East Side that harbored artifacts including clothing worn by Tom Thumb, the P. T. Barnum performer; a mummified cat said to be from an Egyptian tomb; and a glass eye that supposedly belonged to Sammy Davis Jr.  Read more….