MEMENTO MORI NXS Playing Cards – A Review
MEMENTO MORI NXS Playing Cards – A Review
Memento Mori NXS Playing Cards
Time reveals all. Thoughts become action. Clumsiness turns to precision. Failures lead to knowledge. Frustration gives way to breakthroughs. Struggle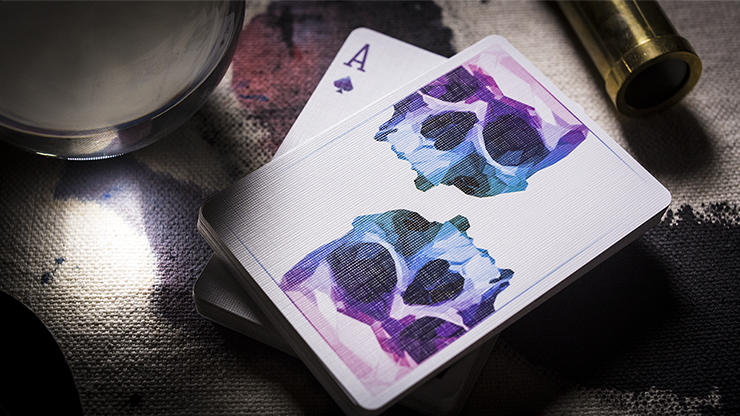 turns to resilience. Boundaries give way to creativity. What you live for becomes what you die for. Your life becomes your legacy."
Memento Mori NXS (Nexus) represents the convergence of life, art, and triumph. It exists as a reminder to seize every precious moment that we are gifted, to live every breath to its fullest, and to leave a lasting legacy to endure the ages.
Memento Mori NXS brings back acclaimed artist Adrian Valenzuela, art designer behind the original Memento Mori. With Memento Mori NXS, he takes low-poly designs to a whole new level by infusing abstract shapes with realism of light and shadow. The result is a beautifully modern design reminiscent of classical impressionism, yet grounded with purpose and inspiration.
Memento Mori – "Remember your mortality"
My Take…
Memento Mori NXS has been carefully and thoughtfully designed by Adrian Valenzuela, and created by cardist extraordinaire Chris Ramsay. The third release in a series, and somewhat different from the first two, (Memento Mori Original and Blue), Memento Mori is truly an 'intelligent' deck of cards for someone looking for cards measured beyond their handling ability. They handle just fine.. as they should, but as you can tell by the ad copy, they are also designed for the cerebral amongst us.
Now, I don't consider myself 'cerebral' by a long shot, but I do get the art, the symbolism, and the idea. Each card is imprinted with two skulls on the back.. not in a macabre way, but as symbolism of the 'precious moment we are gifted'. The card colors are pastel blue, pink and green on a white background, in contrast to the skull embossed on the box on a matte black background. I would really appreciate a deck printed with the dark background on the cards themselves. It makes the colors pop… Enough about colors. They work.
It's obvious the cards are designed to be handled. Flourishes, cascades and fancy cuts explode with the NXS deck. In the right hands, they will definitely appeal to the artist silently hiding in all of us. You don't have to understand abstract shapes to appreciate the art. You don't have to be Chris Ramsay to handle NXS with aplomb. And you don't have to understand the complexities of the brilliant post-impressionist, Paul Cezanne, to appreciate the style. Just enjoy it.
Reviewing a deck isn't easy. There's only so much you can say. The design will pull you in and appeal to you.. or it won't. The design is the money. Aside from being printed by the USPCC on fairly thin stock, (great for faro's), with smooth cut edges, (unlike regular Bicycles), Memento Mori decks are, in my humble opinion, worth the $11.95 price.
If you can find a deck that appeals to your inner self.. and handles like you would expect a high end deck to handle, buy it. Buy a couple or three.. as they WILL be in limited supply. I've paid almost twice the price for decks I would gladly return for a refund if I could. This isn't one of them… This one's a true keeper.
$11.95
Available at dealers who handle the Murphy's Magic line of products..
https://www.murphysmagic.com/Product.aspx?id=62704
Reviewed by Rick Carruth