Pasteboard Revelations – A Review
Pasteboard Revelations – A Review
PASTEBOARD REVELATIONS is like the big brother of the past several ebooks by Paul Lelekis. Certain books strike me certain ways, and Pasteboard Revelations strikes me as one of my very favorite of Paul's many magical ebooks.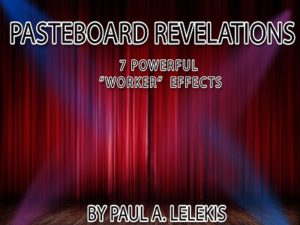 There is definitely something for everyone. The ebook begins with an effect that, when performed properly, will stand out in the minds of both lay people and magicians alike. Videos are provided to cover a couple of false shuffles and cement the visual aspects.
Another two effects use a killer cyclical stack that has fallen from popular grace simply because another cyclical stack 'seems' a tad easier.. although it's not.
Mathedology and Nuclear Fusion both use different methods to reveal cards selected by two different spectators. These are ideal for couples.
Cardbox Magic uses a simple technique I've used for many years.. and I can attest to its power when performed for lay folks. It's ideal for walk-around and restaurant work, as a table is not needed.
Marlo Poker Deal is different. A table IS needed.. but you'll certainly get a ton of bang for your buck.. Paul has simplified this deal from the original to both make it easier and, in my opinion, more visual.
I recommend Pasteboard Revelations to anyone who wants several professional effects for near nothing..
Table of Contents…
WOW! – A deck is shuffled and a card chosen and returned. The performer shuffles the deck well…yet all the red cards are separated from the black cards and the "red chosen selection" is amongst the blacks! Videos are provided to help you master the false shuffles.
RIVERBOAT STACK – TWO EFFECTS INCLUDED! Learn the best cyclical stack known, with an ESP effect, and another impossible effect.. Like the Stebbins Stack.. except better…
NUCLEAR FUSION – A fusion effect for couples or friends that will give them a 'forever' souvenir for "good-luck"! This is the best and most logical fusion effect ever! Perfect for restaurants..
CARD BOX MAGIC – This quick effect seems impossible! Have a card signed and lost in the deck. Place the deck into the card box. Place the cased deck under a hanky or in your shirt pocket and INSTANTLY remove the signed selection! Don't let its simplicity fool you, I've used it successfully for years..
MATHEDOLOGY – Yet another great effect to play for a couple or friends! This is a coincidence effect that NO ONE will ever think is mathematically based…but it is! Very clever! One of those effects you don't believe will work… until it does..
MARLO POKER DEAL – An ingeniously clever Poker Deal that is SO easy to do, you won't believe it! A spectator picks out ANY five cards he wants from a deck of cards and the
performer "explains" how to deal out a winning hand! The five cards picked out by the spectator turn up to be a Royal Flush in Spades! NO PACKET SWITCHES! Just clever as hell! Get your patter down, and you'll use this over and over..
This PDF is $10.00 at:
https://www.lybrary.com/pasteboard-revelations-p-922714.html
Review by Rick Carruth..