ROGUE – Easy To Do Mentalism with Cards – A Review
ROGUE – Easy To Do Mentalism with Cards – A Review
ROGUE Easy To Do Mentalism with Cards
by Steven Palmer and Bigblindmedia:
A new product by Bigblindmedia, ROGUE, uses a unique set-up to create mental miracles with cards. Here's the Ad Copy….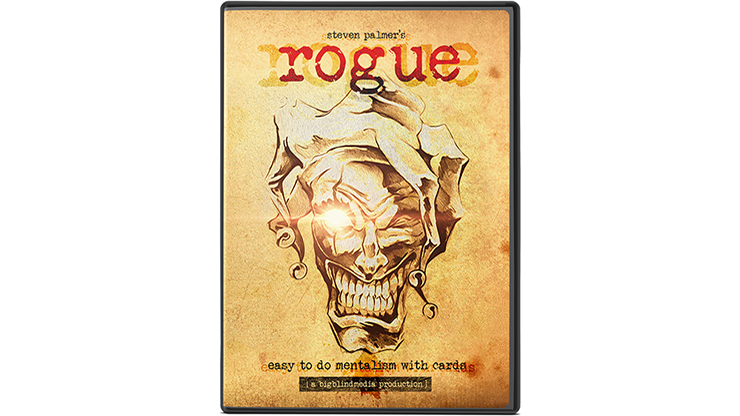 On ROGUE Steven Palmer teaches you how to use a pack of cards to perform absolute miracles. With Steven's brilliant psychological chicanery and a handful of easily achievable moves you will be armed and ready to unleash what looks like REAL mindreading powers.
Central to this project is VOID – Steven's acclaimed 'thought-of-card' revelation. This is a true POWERHOUSE of a trick. It might just be the fairest 'think a card' you will ever do with a normal deck. 'Void' gives you all the power of the 'Koran Deck' or the 'Mind Power Deck' but with a (slightly tweaked) regular deck of cards!
Key points to remember:
Easy set up
A regular deck with no gaffs or duplicates – just some simple tweaks!
Quick reset – ideal for strolling performers
Suitable for ALL skill levels
Looks incredibly fair
A reliable method!!!
You'll also learn the DEVIANT SHUFFLE – Steven's patented false shuffle that looks ridiculously fair but keeps everything exactly where you need it. AND then you'll master the breather crimp with Steven's ingenious touches and extra layers which take a great tool and make it indispensable.
And that is just the start – ROGUE features another SEVEN brilliant routines!
FEATURES:
Void (Version I and II)
Thought of Monte
Heroes & Villains
Technically Missing
Memorabilia
Out of My Sight
Medley
Deadcut
My Take:
I am such a fan of mental magic.. and I call this 'mental magic' as opposed to 'mentalism' in deference to a couple of friends who are full-time mentalists. Regardless, Steven has produced a well-thought-out video, almost 2 hours and 30 minutes long, full of fresh and original thinking. It's difficult to be truly original, but I would say ROGUE is on the right side of that debate by leaps and bounds.
First.. Steven goes to lengths to help buyers understand the physical side of his effects. I do notice the ad copy states 'no gaffs or duplicates'. That's a slightly grey area, as a gaffed card IS used.. but it's not a part of the 52 card deck. It's a Joker that's modified to help set up VOID. Not a big deal.. but it is something you'll need to take a few minutes to create. Another card will be, as they say, 'tweaked'. I think it's fair to call a card with a breather crimp 'tweaked'. I'm not being picky here. Just letting you know that a couple of small modifications are employed to achieve big effects.
Just as with other mind reading decks, a set-up is used. The set-up is what makes the impossible… possible. Steven's Deviant Shuffle, a false shuffle, makes everything totally fair and disarms the spectator, allowing you to work your magic.
I really like the premise behind VOID, and VOID provides the set-up for the other seven effects. There is a common thread here, and it's not complicated to learn or remember. Most important is a brief statement that subconsciously directs the spectator in a certain direction and makes your work so much easier. I wish I could tell you more, but…
The basis of VOID allows the performer to know the exact card selected by the spectator from a stack of approximately ten to twelve cards. Several of the effects expand on this premise, but use the same basic method. VOID also allows you to work with a stacked deck that has been 'almost' freely shuffled before the effect begins. The only bit of subterfuge on your part is being able to release a few cards from one stack before the cards begin to interlace.. Simple stuff.
MEDLEY is probably my favorite. It's presented as a gambling demonstration, but still has the mental magic feel, plus a rapid fire presentation that keeps the spectator off-kilter and confused… in a good way. Everyone will have their own favorite.
As for the video, it's typical BigBlindMedia quality… filmed in what appears to be a studio of some sort, with help from Liam and a few female spectators. Lighting is fine, camera angles are fine.. and multiple cameras are used.. and aside from a slight echo, audio is good. No complaints and no reason to NOT buy the DVD for technical reasons. (The head shot on the back wall is a little disturbing.. in a cool way.)
There is nothing required of consumers beyond advanced beginner moves. If you're reading this, chances are you are more than qualified to perform all eight of these effects. If you would like to add several strong mental magic effects to your repertoire, I recommend ROGUE.
Available from magic dealers who carry the Murphy's Magic line of products..
$30.00 – Available instantly as a two part video download…
https://www.murphysmagic.com/product.aspx?id=63100