The Vault – Illusory – by Ziv – A Review
The Vault – Illusory by Ziv – A Review
Video Download
They won't believe their eyes! Illusory is an incredible new system that makes vanishes and appearances look like a special effect only seen in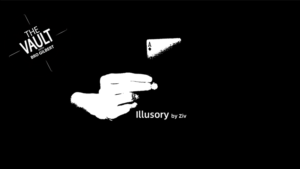 movies!
Level up your social media channels with effects that look truly impossible!
Make playing cards and other objects vanish into thin air and at whatever speed you choose. Illusory is under your control at all times.
Easy to perform.
Easy to make.
Limited only by your imagination.
My Thoughts:
This is different.. When I first watched the demo video I was sure it was simply black art. Cards are disappearing and reappearing against a dark background, and I've been around too long.
I'm not familiar with Ziv.. but he seems like a dedicated young man, willing to step out with a new method of performing old magic. He has, I assume, created this effect himself using something other than black art. Without giving away too much.. black art IS a factor in the vanishes.. but not actually the central point.
Playing cards, held in front of ones chest, vanish and reappear at the control of the magician. This is a very simple method, but not a common method. Something some might consider 'high tech' is used to facilitate the vanish. It's actually a product normally used for another purpose.. but is being repurposed to achieve the magic.
That's all I can tell you.. without giving away too much.
I have to admit, in all fairness to my readers, I have not performed ILLUSORY for a social media audience… which seems to be the target market. I did not perform this beforehand because I did not have the secret sauce. I AM familiar with the secret sauce.. and have no doubt that, under the right conditions, it WILL work. The 'stuff' needed for a successful performance can be purchased on sites like Amazon for around $17.00 for enough material to create a number of gimmicks… and the gimmicks can be used over and over. So, your initial purchase will last for a long time.
I'm confident enough in my knowledge of the secret material I was willing to go ahead and write the review. I have used this material for it's intended purpose, and I know it works as promised. That said… no promises in the world of magic.
The video is filmed on an iPhone. It is also filmed with sub-titles, with English being the language in print. Generally, I am not a fan of sub-titles, but the secret to this effect was revealed rather quickly and I didn't have a problem following the instructions.. which were just over 6 minutes. Truly, it's all about the secret. Handling and secondary instructions are clear watching the promo.
I think it's safe to say you're paying for a secret. Watch the video and see if it's for you.
$15.00 .. Download at Murphy's Magic and through their Associates.
https://www.murphysmagic.com/product.aspx?id=69988
Review by Rick Carruth for The Magic Roadshow and Murphy's Magic