The Real Invisible Deck by Chris Dugdale – A Review
The Real Invisible Deck by Chris Dugdale – A Review
The Vault – The Real Invisible Deck by Chris Dugdale
The invisible deck with a regular deck of cards yours spectators can spread themselves!
No force. Performer never has to look at the cards after they come out of the box.
The spectator can spread through the deck and find the reversed card themselves!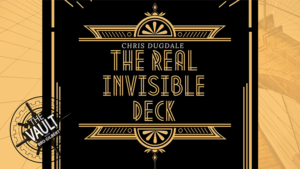 My Thoughts:
There wasn't a lot of fanfare when this effect came out. Actually, you can see by the ad copy, there wasn't much said about The Real Invisible Deck in general. When I happened across this video amongst a group of twenty or more downloads I'd received.. I knew I needed to write a review.
The Real Invisible Deck is based on the Invisible Deck effect.. -except- this uses a regular deck. It's a deck set up in new deck order. The spectator names a card.. and the magi spreads the deck, showing the deck in new deck order, until he reaches the card named by the spectator.. which is clearly reversed in the deck. Get this.. you can actually hand the deck to the spectator and let him/her deal down to their card.. and discover it reversed in the deck.
That's strong stuff…
Straight up.. this isn't the easiest of effects to perform. It IS an effect you can master with a couple of days practice. If you are a skilled card guy.. you may be performing this within 30 minutes or so. There are three sleights to perform that are well known to cardicians. Chris gives 'thanks' to Asi Wind for a method made known by Asi.. I think on his Acaan.
I would give you the sleights, except it would be too easy for some of you to watch the video and reverse engineer this effect. I'm not going to do that to Chris.. I will step out and say this.. you should probably perform this effect within a 180 degree radius.. as you do need to perform a turn-over pass..(not complicated) and you have to be aware of appearances. If you can conceal your pass.. no limits.
All else I can say is.. go to this link and watch the performance video. This will give you a good idea of how straight-forward this effect can be. It has my recommendation and is worth far more than ten bucks. This is something you'll use for many years to come.
Available through Murphy's Magic and their associates..
https://www.murphysmagic.com/product.aspx?id=66850
Rick Carruth for The Magic Roadshow