The Secret Magicians Of The Music Industry, Parts 1-5
The Secret Magicians Of The Music Industry, Parts 1-5
The Secret Magicians Of The Music Industry, Parts 1-5
Very interesting and detailed articles about the lives of 5 magicians.. or would-be magicians. Lots of great pics and videos…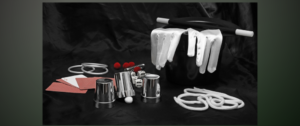 CHICAGO (CelebrityAccess) CelebrityAccess recently talked to one of the magicians at the Houdini magic shop at New York, New York in Las Vegas, who spoke of all the big fans of magic, and many of the people who work in the music biz who either perform for family and friends or who began their careers as magicians.
The reader might be surprised: they might be sitting right beside you in your office. We literally spoke to people who never knew their co-workers led secret lives as prestidigitators. One thing led to another, and we wound up with five voices – too many to put into one article.
As for artists, some of the big names are apparently Willie Nelson, Rodney Atkins and Barry Gibb from the Bee Gees. Nelson is known to perform the complicated card trick "Sam The Bellhop" on his famous tour bus and Gibb is said to be a big fan of performers like magician's magician Paul Harris. Nelson's camp entertained the possibility of getting an interview with the Red-Headed Stranger but his busy summer schedule is about to start; Gibb responded and respectfully declined.
Still, many in the industry have more than a passing interest in the art form. Some began as stage performers; others have absorbed magicians into their clientele.
This is a five-part series and it begins with Arny Granat, co-founder of Chicago promotion company Jam Productions and a busy Broadway producer. Granat is reticent to do interviews unless, of course, it has to do with magic, which he has been doing since the age of 12.
The Secret Magicians Of The Music Industry, Part 5: Clinton Billups
The Secret Magicians Of The Music Industry, Part 4: Danny Robinson, APA
The Secret Magicians Of The Music Industry, Part 3: Magician Darren Romeo
The Secret Magicians Of The Music Industry, Part 2: Tony Conway
The Secret Magicians Of The Music Industry, Part 1: Arny Granat
https://celebrityaccess.com/?s=the+secret+magicians+of+the+music+industry