The Vault : CHINK-A-CHINK Elements by Patricio Teran
The Vault : CHINK-A-CHINK Elements by Patricio Teran
The Vault – CHINK-A-CHINK Elements by Patricio Terán
Review by Rick Carruth
If you enjoy Matrix effects, or wish you could perform Matrix type effects, Chink-a-Chink may be just what you need.. Here is the Ad copy: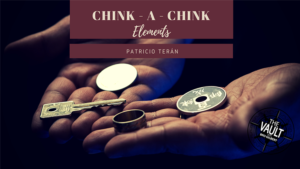 "The best Matrix I have ever seen! I thought my eyes were malfunctioning."
– Richard Sanders
After ten years of keeping his routines underground, Patricio Terán, the Matrix specialist, brings you his legendary handlings of the Chink-a-Chink plot.
You will learn three wonderful routines, complete with all of the subtle elements that will transform your Matrix into a miracle.
These incredible effects are explained step by step with the best quality video and the best possible teacher.
If you have ever wanted to do a hyper visual Matrix with 4 different objects, download this today!
My Thoughts:
From Wikipedia, the free encyclopedia –
"A magician performs the "chink-a-chink" coin trick, having started from a square of four coins. Chink-a-chink is a simple close-up magic trick in which a variety of small objects, usually four, appear to magically transport themselves from location to location when covered by the performer's hands, until the items end up gathered together in the same place. Variations, especially the Sympathetic Coins, have been performed since the 1800s."
"Sean McWeeney, the author of the first dedicated e-book on Chink-a-Chink, has a history dating back to at least early/mid-19th-century Germany. The trick was famously covered in Edwin Sach's seminal book Sleight of Hand in 1877, utilizing four sugar cubes. Max Malini, who popularized the trick in the early 20th century, using cut-down wine corks, is generally credited with naming the trick. Doug Henning performed Chink-a-Chink on television in the early 1970s, using seashells."
Many magicians, popular magicians, have performed this effect using a variety of objects. Anything concealable by the palm of the hand has been fair game. In recent years Chink -a- Chink morphed into the Matrix effect, using playing cards instead of the palm. That said.. this video download is about the classic effect.
I have to first say I prefer the classic Clink-a-Clink to the Matrix. Why? There is no lifting of objects beneath the palm as opposed to lifting coins beneath the transfer of a card. All the transportations involve covering objects with the palm and sliding them from one position to another. This is, to me at least, much easier to master than the latter.
This "The Vault" download was produced by Nacho Mancilla. Honestly, I don't know a lot about Nacho other than he has published a couple of other effects under his name.. UP SLOW and REFRACTION. After the initial intro, Nacho turns everything over to Patricio Terán, a serious Matrix master from Chile.
Due to the language barrier, the entire effects portion of the video is performed to some excellent chill music. Thankfully, everything you need to know can be taught without words. There are camera angles from both forward and rear positions, giving you multiple views of the same move. The video itself is just over 30 minutes, and is more than long enough to teach all the moves. Both sound and video are fine. I have no problem with the production qualities, and they are precisely what I would expect for the cost and subject. There wasn't a credit at the end of the video, so I can't comment on equipment.. only on what I saw. So, if you're one of 'those'.. I can't help you.. Sorry!
The three effects were inspired by Mott-Sun, Takahiro, Daniel Garcia, Al Schneider, and others..
FANTASY: This is a very enticing, very visual effect that, due to the simultaneous movement, makes it darn near impossible to solve. The spectator is left pondering, I was left pondering, and most of the dirty work is the result of a gimmick.
FANTASY uses four half dollars and a change purse.. (well.. maybe slightly more than four). This was similar to the traditional Matrix many of you are familiar with, but uses the palms instead of cards. Again, my preference. This effect reminded me of another effect I recently reviewed.. "Z Matrix.. an effect by Ziv", in that a gimmick is required. You will need a clear acrylic sheet, not hard to find, a pair of scissors, and some double stick tape. Although I don't like constructing gimmicks, this one isn't hard to make. It makes a couple of the moves possible. You also need a Servante. The video teaches how Patricio and Nacho make theirs, which is a very simple open-top savante, stuck to the inner edge of the table. You could probably lap if you didn't want to purchase or make a savante. You WILL like this effect…. and it's not overly hard to learn or perform, once you learn the moves.
METAMORPH MIX: This is a true Clink-a-Clink effect. You use a half dollar, a key, a ring, and a Chinese coin. Again, Patricio performs what appears to be a series of complex vanishes and switches, most achievable once the moves are memorized. This is not only a joy to watch, but would be a joy for you to perform. Like FANTASY, it's next to impossible for the audience to figure out. Too much going on… Dai would love this one.
ELEMENTS: Quick effect similar to the above. This uses a few less moves, but the same tokens. This is a great place to start and a good point to get your feel for what's going on.
Honestly, my best advice is – go to the Murphy's Magic link and watch the demo video. I'm a visual guy myself, and this will give you a good idea of what you'll learn, plus the FANTASY effect, which is not on the demo. I sincerely hope you'll consider buying this download. I think you'll really enjoy performing this for your friends, fellow magicians, and your audience. There's no doubt they'll see you in a different light, a good light, and you don't have to tell them you learned it all from a nineteen dollar video…
$19.95.. From Murphy's Magic and their fellow customers.
https://www.murphysmagic.com/product.aspx?id=63415