The Vault – ALTER by Kelvin Chow and Lost Art Magic – A Review
The Vault – ALTER by Kelvin Chow and Lost Art Magic – A Review
The Vault – ALTER by Kelvin Chow and Lost Art Magic – A Review
This is a very visual card/color change from a highly skilled performer. It's available as an inexpensive instant download and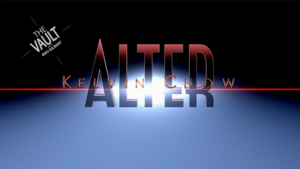 looks as much like real magic as you're apt to see. To quote the ad copy:
"Kelvin is an underground sensation in card magic. His magic is so prolific that it has found its way into the repertoires of award-winning performers such as The Illusionist Star, Yu Ho Jin. Kelvin recently performed for over 2 billion people at China's 2015 New Year's Spring Festival on CCTV. Needless to say, when Kelvin performs, people listen.
Kelvin has created another brilliant masterpiece with this new and breathtaking color change. Over the years, the move utilized in this change has been deemed too difficult and intimidating, so many have not been able to explore the unlimited possibilities and applications involved with it. Now, through crystal-clear instructions and multiple camera angles, Kelvin demystifies the move and will thoroughly teach you the most visually striking application to date. It's time to ALTER!"
– No gimmicks. Pure sleight of hand.
– Perform completely surrounded.
My Thoughts..
Kelvin Chow is the creator of two other commercial effects you may be familiar with.. Quiver and Revolver. He was also one of the standout performers on Penn and Teller's FOOL US during season 5. One of the effects he performed was ALTER.
This is specifically a color change, although to me it is as much a card change as a color change.. Am I being too picky? Call it what you may, it's a very good and extremely visual color change. Nothing in the ad copy is misleading. The magic happens so quick it's possible to perform ALTER from any angle safely.
Simplified.. a card projects from the end of the deck, almost magically, and as the magician takes one finger to spin the card out of the deck, the card changes to another card. It is very visual and you would be encouraged to go to the Murphy's link and watch the video. It's short, but it gives you a perfect idea of the visual quality of ALTER.
Although the handling is not overly complicated, I would still classify it as probably more intermediate than beginner. It will take some practice to perfect the handling. It is definitely within the range of the average card guy.
I see this as a handy tool to be used during an effect – and not simply as a demonstration. The magic is so quick the spectator is guaranteed to not have a clue what happened. Watching the video doesn't give you a clue to the method and the low cost for the instant download is money well spent if you take a little time to learn it.
For the cost and versatility.. I recommend it..
$7.99 From Murphy's Magic and their fellow retailers..
https://www.murphysmagic.com/product.aspx?id=65279
Review by Rick Carruth
https://MagicRoadshow.com