What it's like inside Hollywood's exclusive Magic Castle
What it's like inside Hollywood's exclusive Magic Castle
BUSINESS INSIDER –  Mikala Jones-Fielder and Joe Avella ,  Aug. 13, 2019, 2:28 PM
It's not easy to get an invitation, but those who do are treated to dinner and a show as well as nonstop magic shows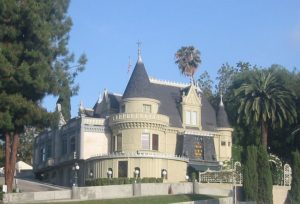 throughout the night.
Neil Patrick Harris, Steve Martin, and Johnny Carson are a few of the famous members who've performed there.
Joe Avella: The Magic Castle is an exclusive club run by the Academy of Magical Arts, but only their members and guests are allowed in. Founded in 1963, The Magic Castle looms over Hollywood. It's pretty hard to miss. I've been curious about The Magic Castle since I moved here, and, doing research, turns out it's incredibly exclusive. There's really only two ways to get in: be a member or get an invite from a member.
Joe Furlow: We are a private club, very similar to a country club or yacht club, we just deal with the art of magic.
Joe Avella: I got an exclusive tour of The Castle, which, in addition to the many bars, magic theaters, and full dining area, it also features a séance room, a library filled with decades of secret magic tricks, and even ghosts. This is one of most exclusive clubs in Los Angeles, and they have been nice enough to let us in early to show us all the ins and outs of this really great place. For starters, to get into this place, you have to enter through a trick bookshelf.
Rmax Goodwin: So, you say to the owl, "Open, sesame."
Joe: Mo, you wanna do the honors?
Mo: Open, sesame… (Read More and Watch the Video)
https://www.businessinsider.com/what-its-like-inside-hollywoods-exclusive-magic-castle-2019-8