The Vault – PHOSPHORUS by Victor Sanz – A Review
The Vault – PHOSPHORUS by Victor Sanz – A Review
The Vault – Phosphorus by Victor Sanz
Quick pocket trick download from Victor Sanz and Murphy's Magic.. Here's the ad copy: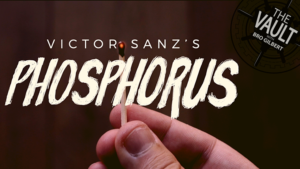 Find the spectator's match without looking — in only one second!
Victor Sanz shares his brilliant new interactive close-up miracle. A spectator picks a matchstick out of many and signs their name on it. They then put the signed match back in the box with the others and shake them all up. The magician takes the box back and, in one second, produces the signed lit match!
Everything can be examined before and after the effect. Make the gimmick in less than 5 minutes. Easy to perform.
My Thoughts..
Victor Sanz is another creative mind from Spain, home to some of the most creative magic on the planet. Victor is also the creator of Self-Flipping Note Pad, Contrasts, Vibrate and Revolver, among other effects.
As a fellow who has a fondness for walk-around, I'm always glad to find a quick trick I can add to my repertoire. This effect from Victor Sanz can, literally, be carried in a matchbox.. and doesn't require much to learn. I think some of you will find this an attractive addition.
The effect performs like the ad copy. Aside from a small gimmick, everything works as advertised, and the learning curve is minimal. The magi shows a spectator a wooden matchbox full of matches. The spectator is allowed to pick a match and mark it to be easily recognized later. The magi partially inserts the match into the box and the spectator pushes the match the remainder of the way in and closes the box. The spectator shakes the box to thoroughly mix the matches. The box is returned to the magi who.. with only a very slight pause.. places the box behind his back with one hand – as the other hand brings a lit match from behind the magi, lit..
It's the spectator's match.
It's not exactly like vanishing the Statue of Liberty.. but it's a nice, quick effect that creates a mystery. You do have to create a small gimmick to make the effect work. As this is a download, you get to make the gimmick with thoughtful instructions from Victor. It only requires something you probably have around the house, plus a pair of scissors, and about 4 or 5 minutes. Everyone knows my dislike of DIY effects, but this is admittedly simple to make…
The download is typical Murphy's Magic quality. The effect is taught with subtitles. As the effect is not very complicated, this wasn't a problem for me. They could have taught everything sans subtitles and I think you would still understand everything you need to know. The video runs 33 minutes with several minutes performance mode.
I would recommend PHOSPHORUS to anyone with ten bucks and a desire to add a little something-something to their routine. It's a quickie, easy to perform, and a great little effect for those of you who love to play with fire…
$10.00 at Murphy's Magic and their affiliated magic dealers…
https://www.murphysmagic.com/product.aspx?id=64658
Review by Rick Carruth
www.MagicRoadshow.com