RAPP by Steven Delaere – A Review
RAPP by Steven Delaere – A Review
RAPP by Steven Delaere – A Review
Review by R. Carruth
This is the ad copy for Steven Delaere's RAPP, available from Murphy's Magic…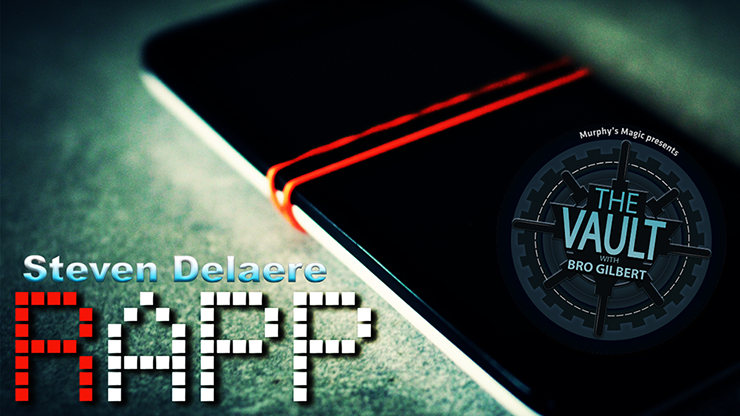 "If you are bored doing the crazy man's handcuffs, looking for something different, this is it! Rapp brings your rubber band magic to the next level. Taking a truly broken rubber band, you visually RESTORE it on THEIR phone. After the restoration, you then SWAP the rubber band to your phone in a split second."
"Rapp is ultra visual, fast and it resets instantly! Modern magic using nothing more than a rubber band and a spectator's phone, creating a high impact in a very short time."
– Fun and practical effect to perform
– Original rubber band magic
– Any phone is possible
– Easy set-up
– Instant reset
– Perfect for walk-around
– Ultra visual, looks like a camera trick
– Detailed instructions, shot in HD
– Including BONUS effect, using your own business cards!
Download the video and begin learning this great effect.
My Take…
First.. I'm going to eliminate any mystery and say simply.. I like RAPP. I use RAPP. I began using RAPP about five minutes after I watched the video. It's that simple…
I agree with all the statements in the ad copy. There isn't a claim NOT true. It's original, easy to do and easy to set up, instant (almost) reset, extremely visual and very strong for walk-around.
Steven includes a well done 35 minute video, filmed in HD, that explains all the details in.. well… detail. As with most rubber band effects, there's a little more involved than simply putting a rubber band around your wrist. But, there isn't a LOT more involved. With a few minutes practice, you can go from a normal state to full battle mode in about three or four seconds. Steven does it in less than a second.. but he's well practiced.
Now, to the fine print… There is some prep involved. I debated whether to go in to detail, in fairness to the creator, and decided to elaborate a little about the vanish. If you watch the video at Murphy's site, you'll see the performer holding a broken rubber band above a cellphone held in the other hand. With a toss, the band is 'thrown' toward the phone. The phone suddenly has an intact band surrounding it.. and the broken band is gone. (Watch the video). This happens so quickly it does appear to be some sort of camera trick.. but of course.. it's not.
I think most of us know that to vanish a small object, some sort of device is necessary.. and that's the case here too. Fortunately, most of us have one of those devices in a cigar box.. back in the bedroom .. collecting dust. They are only a couple of dollars if you don't happen to have one. In fact, I used to use a small, round piece of elastic from my mother's sewing box when I was young. I tied it to a safety pin, attached it to the inside of my sleeve about elbow high, and attached the other end to a paper clip. I could vanish a paper clip as good as any fourteen year old.
I hope you get the point of my story. Ideally, having one of these small devices simplifies RAPP, but it isn't totally necessary. If a fourteen year old can figure a work-around.. you can figure a work-around…
Of course, having the right size rubber band makes RAPP so much easier. You'll figure this out. It has to go from point A to point B to point C.. and any band that'll do this with the right amount of tension will work. Personally, I buy Joe Rindfleisch's Rainbow Rubber Bands from Joe.. or from Amazon.. and they are perfect. (I'm 99% sure Steven uses Joe's bands in the video.)
There are a couple of other effects taught as well. One has the rubber band jumping from one cell phone to another.. and a third effect has bands jumping from a cell phone to a stack of business cards.. which then makes it easy to hand out a card to your spectator.
Again, both effects are very easy to perform, using basically the same setup, and offer you a trio of effects on one video.
Overall, some may think fifteen dollars is a lot for a rubber band 'trick'.. but it's not, -if- you use it. I use it, and I am definitely recommending RAPP to my friends and readers.
$14.95 from The Vault at Murphy's Magic. This is an instant download.